{"id":512780238906,"title":"10 Meals - Paleo","handle":"10-meals-paleo","description":"\u003cmeta charset=\"utf-8\"\u003e\n\u003cp\u003eSavor Home Bistro – Chef prepared, locally sourced, we use only the finest all-natural ingredients. Recharge with Home Bistro – 700 calories and 800mg of sodium or less per meal.\u003c\/p\u003e\n\u003cp\u003eServe a delicious, healthy meal in under 10 minutes.\u003c\/p\u003e\n\u003cp\u003eA convenient way to enjoy chef prepared delicious meals while maintaining a Paleo Diet. Each meal is individually packaged just Heat. Plate. Enjoy!\u003c\/p\u003e\n\u003cul\u003e\n\u003cli\u003ePaleo Diet Friendly\u003c\/li\u003e\n\u003cli\u003eGluten Free\u003c\/li\u003e\n\u003cli\u003eNo processed sugar\u003c\/li\u003e\n\u003cli\u003eChef prepared meals Two each of our most popular Paleo meals combined into one easy to order combo.\u003c\/li\u003e\n\u003c\/ul\u003e\n\u003cp\u003e\u003cimg src=\"\/\/cdn.shopify.com\/s\/files\/1\/0004\/5052\/7290\/files\/7918_large.jpg?v=1519830612\" alt=\"Grilled Chicken Breast with Sweet and Spicy Veggies\" width=\"296\" height=\"167\"\u003e\u003c\/p\u003e\n\u003cdiv class=\"bundled_product bundled_product_summary product \"\u003e\n\u003cdiv class=\"details\"\u003e\n\u003ch4 class=\"bundled_product_title product_title\"\u003e\u003cspan class=\"bundled_product_title_inner\"\u003e\u003cspan class=\"item_title\"\u003eGrilled Chicken Breast with Sweet and Spicy Veggies\u003c\/span\u003e\u003cspan class=\"item_qty\"\u003e\u003cspan\u003e \u003c\/span\u003e× 2\u003c\/span\u003e\u003cspan class=\"item_suffix\"\u003e\u003c\/span\u003e\u003c\/span\u003e\u003c\/h4\u003e\n\u003cdiv class=\"bundled_product_excerpt product_excerpt\"\u003e\n\u003cp\u003eA premium Colorado Native Foods fire grilled chicken breast is Accompanied by honey roasted carrots and spicy chili broccoli.\u003c\/p\u003e\n\u003c\/div\u003e\n\u003cdiv class=\"cart\" data-title=\"Grilled Chicken Breast with Sweet and Spicy Veggies\" data-optional_suffix=\"\" data-optional=\"no\" data-type=\"simple\" data-bundled_item_id=\"243\" data-product_id=\"8499\" data-bundle_id=\"17171\"\u003e\n\u003cdiv class=\"bundled_item_wrap\"\u003e\n\u003cdiv class=\"bundled_item_cart_content\"\u003e\n\u003cdiv class=\"bundled_item_cart_details\"\u003e\n\u003cp class=\"stock out-of-stock\"\u003e \u003cimg src=\"\/\/cdn.shopify.com\/s\/files\/1\/0004\/5052\/7290\/files\/7919_large.jpg?v=1519830688\" alt=\"Mediterranean Shrimp and Gratin\" width=\"300\" height=\"169\"\u003e\u003c\/p\u003e\n\u003c\/div\u003e\n\u003c\/div\u003e\n\u003c\/div\u003e\n\u003c\/div\u003e\n\u003c\/div\u003e\n\u003c\/div\u003e\n\u003cdiv class=\"bundled_product bundled_product_summary product \"\u003e\n\u003cdiv class=\"details\"\u003e\n\u003ch4 class=\"bundled_product_title product_title\"\u003e\u003cspan class=\"bundled_product_title_inner\"\u003e\u003cspan class=\"item_title\"\u003eMediterranean Shrimp and Gratin\u003c\/span\u003e\u003cspan class=\"item_qty\"\u003e\u003cspan\u003e \u003c\/span\u003e× 2\u003c\/span\u003e\u003cspan class=\"item_suffix\"\u003e\u003c\/span\u003e\u003c\/span\u003e\u003c\/h4\u003e\n\u003cdiv class=\"bundled_product_excerpt product_excerpt\"\u003e\n\u003cp\u003eA dish from the sun soaked shores of the Mediterranean. Harissa, the foundation for this dish is the national condiment of Tunisia. Accompanied by oven roasted Brussels sprouts and healthy Tunisian cauliflower gratin with a chermoula sauce; a delightful blend of parsley, cilantro garlic and lemon juice with a little olive oil. A healthy delicious and flavorful meal.\u003c\/p\u003e\n\u003c\/div\u003e\n\u003cdiv class=\"cart\" data-title=\"Mediterranean Shrimp and Gratin\" data-optional_suffix=\"\" data-optional=\"no\" data-type=\"simple\" data-bundled_item_id=\"244\" data-product_id=\"8790\" data-bundle_id=\"17171\"\u003e\n\u003cdiv class=\"bundled_item_wrap\"\u003e\n\u003cdiv class=\"bundled_item_cart_content\"\u003e\n\u003cdiv class=\"bundled_item_cart_details\"\u003e\n\u003cp class=\"stock out-of-stock\"\u003e \u003cimg src=\"\/\/cdn.shopify.com\/s\/files\/1\/0004\/5052\/7290\/files\/7888_large.jpg?v=1519829896\" alt=\"Charbroiled Peri Peri Chicken\" width=\"302\" height=\"170\"\u003e\u003c\/p\u003e\n\u003c\/div\u003e\n\u003c\/div\u003e\n\u003c\/div\u003e\n\u003c\/div\u003e\n\u003c\/div\u003e\n\u003c\/div\u003e\n\u003cdiv class=\"bundled_product bundled_product_summary product \"\u003e\n\u003cdiv class=\"details\"\u003e\n\u003ch4 class=\"bundled_product_title product_title\"\u003e\u003cspan class=\"bundled_product_title_inner\"\u003e\u003cspan class=\"item_title\"\u003eCharbroiled Peri Peri Chicken\u003c\/span\u003e\u003cspan class=\"item_qty\"\u003e\u003cspan\u003e \u003c\/span\u003e× 2\u003c\/span\u003e\u003cspan class=\"item_suffix\"\u003e\u003c\/span\u003e\u003c\/span\u003e\u003c\/h4\u003e\n\u003cdiv class=\"bundled_product_excerpt product_excerpt\"\u003e\n\u003cp\u003eA premium Colorado Native Foods fire grilled chicken breast is served with a simple, vibrant piri piri sauce made with roasted vegetables, garlic and a touch of lemon. Accompanied by. Tunisian Cauliflower Gratin with a Chermoula Sauce. Roasted Brussels Sprouts\u003c\/p\u003e\n\u003c\/div\u003e\n\u003c\/div\u003e\n\u003c\/div\u003e\n\u003cdiv class=\"bundled_product bundled_product_summary product \"\u003e\n\u003cdiv class=\"bundled_product_images\"\u003e\n\u003ch4 class=\"bundled_product_image woocommerce-product-gallery__image\"\u003e\n\u003cspan class=\"item_title\"\u003eChargrilled Salmon and Honey Roasted Carrots\u003c\/span\u003e\u003cspan class=\"item_qty\"\u003e\u003cspan\u003e \u003c\/span\u003e× 2\u003c\/span\u003e\n\u003c\/h4\u003e\n\u003c\/div\u003e\n\u003cdiv class=\"details\"\u003e\n\u003cdiv class=\"bundled_product_excerpt product_excerpt\"\u003e\n\u003cp\u003eChargrilled salmon is seared using olive oil for a moist delicious, healthy delight. Accompanied by Broccoli and Honey Roasted Carrots. A taste of summer.\u003c\/p\u003e\n\u003c\/div\u003e\n\u003cdiv class=\"cart\" data-title=\"Chargrilled Salmon and Honey Roasted Carrots\" data-optional_suffix=\"\" data-optional=\"no\" data-type=\"simple\" data-bundled_item_id=\"246\" data-product_id=\"8791\" data-bundle_id=\"17171\"\u003e\n\u003cdiv class=\"bundled_item_wrap\"\u003e\n\u003cdiv class=\"bundled_item_cart_content\"\u003e\n\u003cdiv class=\"bundled_item_cart_details\"\u003e\n\u003cp class=\"stock out-of-stock\"\u003e \u003cimg src=\"\/\/cdn.shopify.com\/s\/files\/1\/0004\/5052\/7290\/files\/7890_large.jpg?v=1519828553\" alt=\"Peri Peri Pork with Vegetables\" width=\"317\" height=\"179\"\u003e\u003c\/p\u003e\n\u003c\/div\u003e\n\u003c\/div\u003e\n\u003c\/div\u003e\n\u003c\/div\u003e\n\u003c\/div\u003e\n\u003c\/div\u003e\n\u003cdiv class=\"bundled_product bundled_product_summary product \"\u003e\n\u003cdiv class=\"details\"\u003e\n\u003ch4 class=\"bundled_product_title product_title\"\u003e\u003cspan class=\"bundled_product_title_inner\"\u003e\u003cspan class=\"item_title\"\u003ePeri Peri Pork with Vegetables\u003c\/span\u003e\u003cspan class=\"item_qty\"\u003e\u003cspan\u003e \u003c\/span\u003e× 2\u003c\/span\u003e\u003cspan class=\"item_suffix\"\u003e\u003c\/span\u003e\u003c\/span\u003e\u003c\/h4\u003e\n\u003cdiv class=\"bundled_product_excerpt product_excerpt\"\u003e\n\u003cp\u003eChargrilled pork tenderloin medallions are served with a simple, vibrant peri peri sauce made with roasted vegetables, garlic and a touch of lemon. Accompanied by spicy chili broccoli and honey roasted carrots.\u003c\/p\u003e\n\u003c\/div\u003e\n\u003c\/div\u003e\n\u003c\/div\u003e","published_at":"2018-02-21T14:47:38-05:00","created_at":"2018-02-21T14:50:16-05:00","vendor":"Homebistro","type":"Combos","tags":["10 Meals","Diabetic Friendly","Gluten Free","Healthy Gourmet","Lower Sodium","Paleo"],"price":19999,"price_min":19999,"price_max":19999,"available":true,"price_varies":false,"compare_at_price":null,"compare_at_price_min":0,"compare_at_price_max":0,"compare_at_price_varies":false,"variants":[{"id":6835523846202,"title":"Default Title","option1":"Default Title","option2":null,"option3":null,"sku":"P-7923","requires_shipping":true,"taxable":true,"featured_image":null,"available":true,"name":"10 Meals - Paleo","public_title":null,"options":["Default Title"],"price":19999,"weight":0,"compare_at_price":null,"inventory_management":null,"barcode":""}],"images":["\/\/cdn.shopify.com\/s\/files\/1\/0004\/5052\/7290\/products\/combos-10-meals-paleo-1.jpg?v=1550105099"],"featured_image":"\/\/cdn.shopify.com\/s\/files\/1\/0004\/5052\/7290\/products\/combos-10-meals-paleo-1.jpg?v=1550105099","options":["Title"],"content":"\u003cmeta charset=\"utf-8\"\u003e\n\u003cp\u003eSavor Home Bistro – Chef prepared, locally sourced, we use only the finest all-natural ingredients. Recharge with Home Bistro – 700 calories and 800mg of sodium or less per meal.\u003c\/p\u003e\n\u003cp\u003eServe a delicious, healthy meal in under 10 minutes.\u003c\/p\u003e\n\u003cp\u003eA convenient way to enjoy chef prepared delicious meals while maintaining a Paleo Diet. Each meal is individually packaged just Heat. Plate. Enjoy!\u003c\/p\u003e\n\u003cul\u003e\n\u003cli\u003ePaleo Diet Friendly\u003c\/li\u003e\n\u003cli\u003eGluten Free\u003c\/li\u003e\n\u003cli\u003eNo processed sugar\u003c\/li\u003e\n\u003cli\u003eChef prepared meals Two each of our most popular Paleo meals combined into one easy to order combo.\u003c\/li\u003e\n\u003c\/ul\u003e\n\u003cp\u003e\u003cimg src=\"\/\/cdn.shopify.com\/s\/files\/1\/0004\/5052\/7290\/files\/7918_large.jpg?v=1519830612\" alt=\"Grilled Chicken Breast with Sweet and Spicy Veggies\" width=\"296\" height=\"167\"\u003e\u003c\/p\u003e\n\u003cdiv class=\"bundled_product bundled_product_summary product \"\u003e\n\u003cdiv class=\"details\"\u003e\n\u003ch4 class=\"bundled_product_title product_title\"\u003e\u003cspan class=\"bundled_product_title_inner\"\u003e\u003cspan class=\"item_title\"\u003eGrilled Chicken Breast with Sweet and Spicy Veggies\u003c\/span\u003e\u003cspan class=\"item_qty\"\u003e\u003cspan\u003e \u003c\/span\u003e× 2\u003c\/span\u003e\u003cspan class=\"item_suffix\"\u003e\u003c\/span\u003e\u003c\/span\u003e\u003c\/h4\u003e\n\u003cdiv class=\"bundled_product_excerpt product_excerpt\"\u003e\n\u003cp\u003eA premium Colorado Native Foods fire grilled chicken breast is Accompanied by honey roasted carrots and spicy chili broccoli.\u003c\/p\u003e\n\u003c\/div\u003e\n\u003cdiv class=\"cart\" data-title=\"Grilled Chicken Breast with Sweet and Spicy Veggies\" data-optional_suffix=\"\" data-optional=\"no\" data-type=\"simple\" data-bundled_item_id=\"243\" data-product_id=\"8499\" data-bundle_id=\"17171\"\u003e\n\u003cdiv class=\"bundled_item_wrap\"\u003e\n\u003cdiv class=\"bundled_item_cart_content\"\u003e\n\u003cdiv class=\"bundled_item_cart_details\"\u003e\n\u003cp class=\"stock out-of-stock\"\u003e \u003cimg src=\"\/\/cdn.shopify.com\/s\/files\/1\/0004\/5052\/7290\/files\/7919_large.jpg?v=1519830688\" alt=\"Mediterranean Shrimp and Gratin\" width=\"300\" height=\"169\"\u003e\u003c\/p\u003e\n\u003c\/div\u003e\n\u003c\/div\u003e\n\u003c\/div\u003e\n\u003c\/div\u003e\n\u003c\/div\u003e\n\u003c\/div\u003e\n\u003cdiv class=\"bundled_product bundled_product_summary product \"\u003e\n\u003cdiv class=\"details\"\u003e\n\u003ch4 class=\"bundled_product_title product_title\"\u003e\u003cspan class=\"bundled_product_title_inner\"\u003e\u003cspan class=\"item_title\"\u003eMediterranean Shrimp and Gratin\u003c\/span\u003e\u003cspan class=\"item_qty\"\u003e\u003cspan\u003e \u003c\/span\u003e× 2\u003c\/span\u003e\u003cspan class=\"item_suffix\"\u003e\u003c\/span\u003e\u003c\/span\u003e\u003c\/h4\u003e\n\u003cdiv class=\"bundled_product_excerpt product_excerpt\"\u003e\n\u003cp\u003eA dish from the sun soaked shores of the Mediterranean. Harissa, the foundation for this dish is the national condiment of Tunisia. Accompanied by oven roasted Brussels sprouts and healthy Tunisian cauliflower gratin with a chermoula sauce; a delightful blend of parsley, cilantro garlic and lemon juice with a little olive oil. A healthy delicious and flavorful meal.\u003c\/p\u003e\n\u003c\/div\u003e\n\u003cdiv class=\"cart\" data-title=\"Mediterranean Shrimp and Gratin\" data-optional_suffix=\"\" data-optional=\"no\" data-type=\"simple\" data-bundled_item_id=\"244\" data-product_id=\"8790\" data-bundle_id=\"17171\"\u003e\n\u003cdiv class=\"bundled_item_wrap\"\u003e\n\u003cdiv class=\"bundled_item_cart_content\"\u003e\n\u003cdiv class=\"bundled_item_cart_details\"\u003e\n\u003cp class=\"stock out-of-stock\"\u003e \u003cimg src=\"\/\/cdn.shopify.com\/s\/files\/1\/0004\/5052\/7290\/files\/7888_large.jpg?v=1519829896\" alt=\"Charbroiled Peri Peri Chicken\" width=\"302\" height=\"170\"\u003e\u003c\/p\u003e\n\u003c\/div\u003e\n\u003c\/div\u003e\n\u003c\/div\u003e\n\u003c\/div\u003e\n\u003c\/div\u003e\n\u003c\/div\u003e\n\u003cdiv class=\"bundled_product bundled_product_summary product \"\u003e\n\u003cdiv class=\"details\"\u003e\n\u003ch4 class=\"bundled_product_title product_title\"\u003e\u003cspan class=\"bundled_product_title_inner\"\u003e\u003cspan class=\"item_title\"\u003eCharbroiled Peri Peri Chicken\u003c\/span\u003e\u003cspan class=\"item_qty\"\u003e\u003cspan\u003e \u003c\/span\u003e× 2\u003c\/span\u003e\u003cspan class=\"item_suffix\"\u003e\u003c\/span\u003e\u003c\/span\u003e\u003c\/h4\u003e\n\u003cdiv class=\"bundled_product_excerpt product_excerpt\"\u003e\n\u003cp\u003eA premium Colorado Native Foods fire grilled chicken breast is served with a simple, vibrant piri piri sauce made with roasted vegetables, garlic and a touch of lemon. Accompanied by. Tunisian Cauliflower Gratin with a Chermoula Sauce. Roasted Brussels Sprouts\u003c\/p\u003e\n\u003c\/div\u003e\n\u003c\/div\u003e\n\u003c\/div\u003e\n\u003cdiv class=\"bundled_product bundled_product_summary product \"\u003e\n\u003cdiv class=\"bundled_product_images\"\u003e\n\u003ch4 class=\"bundled_product_image woocommerce-product-gallery__image\"\u003e\n\u003cspan class=\"item_title\"\u003eChargrilled Salmon and Honey Roasted Carrots\u003c\/span\u003e\u003cspan class=\"item_qty\"\u003e\u003cspan\u003e \u003c\/span\u003e× 2\u003c\/span\u003e\n\u003c\/h4\u003e\n\u003c\/div\u003e\n\u003cdiv class=\"details\"\u003e\n\u003cdiv class=\"bundled_product_excerpt product_excerpt\"\u003e\n\u003cp\u003eChargrilled salmon is seared using olive oil for a moist delicious, healthy delight. Accompanied by Broccoli and Honey Roasted Carrots. A taste of summer.\u003c\/p\u003e\n\u003c\/div\u003e\n\u003cdiv class=\"cart\" data-title=\"Chargrilled Salmon and Honey Roasted Carrots\" data-optional_suffix=\"\" data-optional=\"no\" data-type=\"simple\" data-bundled_item_id=\"246\" data-product_id=\"8791\" data-bundle_id=\"17171\"\u003e\n\u003cdiv class=\"bundled_item_wrap\"\u003e\n\u003cdiv class=\"bundled_item_cart_content\"\u003e\n\u003cdiv class=\"bundled_item_cart_details\"\u003e\n\u003cp class=\"stock out-of-stock\"\u003e \u003cimg src=\"\/\/cdn.shopify.com\/s\/files\/1\/0004\/5052\/7290\/files\/7890_large.jpg?v=1519828553\" alt=\"Peri Peri Pork with Vegetables\" width=\"317\" height=\"179\"\u003e\u003c\/p\u003e\n\u003c\/div\u003e\n\u003c\/div\u003e\n\u003c\/div\u003e\n\u003c\/div\u003e\n\u003c\/div\u003e\n\u003c\/div\u003e\n\u003cdiv class=\"bundled_product bundled_product_summary product \"\u003e\n\u003cdiv class=\"details\"\u003e\n\u003ch4 class=\"bundled_product_title product_title\"\u003e\u003cspan class=\"bundled_product_title_inner\"\u003e\u003cspan class=\"item_title\"\u003ePeri Peri Pork with Vegetables\u003c\/span\u003e\u003cspan class=\"item_qty\"\u003e\u003cspan\u003e \u003c\/span\u003e× 2\u003c\/span\u003e\u003cspan class=\"item_suffix\"\u003e\u003c\/span\u003e\u003c\/span\u003e\u003c\/h4\u003e\n\u003cdiv class=\"bundled_product_excerpt product_excerpt\"\u003e\n\u003cp\u003eChargrilled pork tenderloin medallions are served with a simple, vibrant peri peri sauce made with roasted vegetables, garlic and a touch of lemon. Accompanied by spicy chili broccoli and honey roasted carrots.\u003c\/p\u003e\n\u003c\/div\u003e\n\u003c\/div\u003e\n\u003c\/div\u003e"}
10 Meals - Paleo
10 Meals - Paleo
Savor Home Bistro – Chef prepared, locally sourced, we use only the finest all-natural ingredients. Recharge with Home Bistro – 700 calories and 800mg of sodium or less per meal.
Serve a delicious, healthy meal in under 10 minutes.
A convenient way to enjoy chef prepared delicious meals while maintaining a Paleo Diet. Each meal is individually packaged just Heat. Plate. Enjoy!
Paleo Diet Friendly
Gluten Free
No processed sugar
Chef prepared meals Two each of our most popular Paleo meals combined into one easy to order combo.
Grilled Chicken Breast with Sweet and Spicy Veggies

 

× 2
A premium Colorado Native Foods fire grilled chicken breast is Accompanied by honey roasted carrots and spicy chili broccoli.
Mediterranean Shrimp and Gratin

 

× 2
A dish from the sun soaked shores of the Mediterranean. Harissa, the foundation for this dish is the national condiment of Tunisia. Accompanied by oven roasted Brussels sprouts and healthy Tunisian cauliflower gratin with a chermoula sauce; a delightful blend of parsley, cilantro garlic and lemon juice with a little olive oil. A healthy delicious and flavorful meal.
Charbroiled Peri Peri Chicken

 

× 2
A premium Colorado Native Foods fire grilled chicken breast is served with a simple, vibrant piri piri sauce made with roasted vegetables, garlic and a touch of lemon. Accompanied by. Tunisian Cauliflower Gratin with a Chermoula Sauce. Roasted Brussels Sprouts
Chargrilled Salmon and Honey Roasted Carrots
 

× 2
Chargrilled salmon is seared using olive oil for a moist delicious, healthy delight. Accompanied by Broccoli and Honey Roasted Carrots. A taste of summer.
Peri Peri Pork with Vegetables

 

× 2
Chargrilled pork tenderloin medallions are served with a simple, vibrant peri peri sauce made with roasted vegetables, garlic and a touch of lemon. Accompanied by spicy chili broccoli and honey roasted carrots.
Prepared by world class chefs and delivered frozen
Ready to eat within minutes
✓   Made With Natural Ingredients
✓   Delivered Right To Your Door
✓   Diabetic, Paleo, Heart Healthy, Vegetarian Options
✓   Doing Business Since 1999
✓   Courteous, Knowledgeable & Professional Support
✓   Complete PCI Compliant SSL Secure Ordering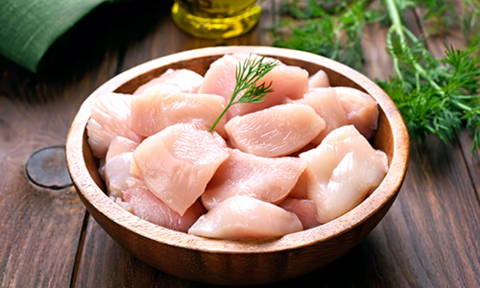 We've partnered with Tecumseh Farms, their Smart Chicken is 100% USDA-verified Pure Air-Chilled (with no added water). Every chicken is raised without antibiotics, growth stimulants, and animal by-products and is handled humanely and responsibly at every step. Every cut is deboned and trimmed by hand for chicken with better texture, flavor, and nutrition. "the right way includes the proper treatment and care of our chickens and also our people, and the utmost care and discretion in how we process and package our product.
Further, we believed that we could do so while keeping a careful eye on the environment and on the sustainability and renewability of the resources we would need to access. We knew we would have to be able to do things efficiently, but we also believed that consumers would be willing to pay a little more for a superior product produced with these principles in mind." – Smart Chicken.com
Made With Natural Ingredients
Hormone and Steroid Free Diet
---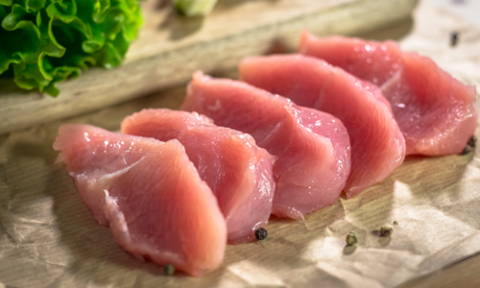 From one secluded valley protected by peaks of stone, nourished by clean mountain air and caring hands, comes a bird of remarkable reputation. This is turkey like no other. Norbest brand turkeys are raised by ranching families working together to produce quality turkey products. Norbest turkey production practices are humane, with the health and comfort of the birds of paramount importance.
Made With Natural Ingredients
Hormone and Steroid Free Diet
---
We've partnered with Aspen Ridge Natural Beef which holds itself to the highest stan­dards on genetics, animal handling and feeding protocols. The result is premium natural beef of unparalleled quality.
Breed Specific - Angus by Genetics
Hormone and Steroid Free Diet
Handling Practices Validated by Humane Farm Animal Care
---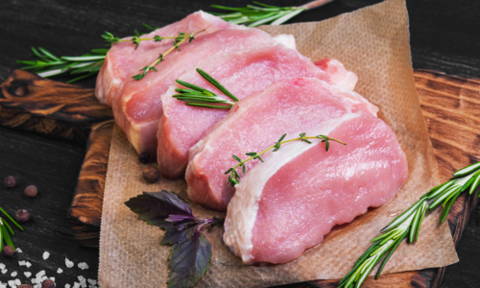 Situated across the American Midwestern countryside are the nearly 20 family-owned farms, which carefully and sustainably produce the premium pork used by Home Bistro. At each farm, sows and pigs are diligently cared for in temperature-controlled environments. These smaller farms allow farmers to devote individualized attention to the animals and promote sustainable agricultural practices. All drivers and handlers are trained and tested on humane animal welfare practices.
Breed Specific - Duroc breed by Genetics for unparalleled tenderness
Hormone and Steroid Free Diet
Handling Practices Validated by Humane Farm Animal Care
Minimally Processed for Maximum Flavor