{"id":543779291194,"title":"Mediterranean Chicken and Fruit Kabob","handle":"mediterranean-chicken-and-fruit-kabob","description":"\u003cmeta charset=\"utf-8\"\u003e\n\u003cp\u003e\u003cspan\u003eA premium Colorado Native Foods chicken breast is skewered with apricot, figs dates and red onion then cooked to perfection, served with a cool and creamy labneh sauce and accompanied by garlic marble potatoes and Braised Cannellini Beans.\u003c\/span\u003e\u003c\/p\u003e\n\u003cmeta charset=\"utf-8\"\u003e\n\u003cp\u003e\u003cb\u003eChicken and Fruit Kabob –\u003c\/b\u003e\u003cspan\u003e \u003c\/span\u003eA recipe inspired by of Casablanca, the heart of Morocco where wanderers can buy kabobs and fresh fruit cooked on the spot off wheeled carts. Figs and dates add an all-natural sweetness to these skewers and blend perfectly with the chicken and the bite of the red onion. Chicken is a great source of lean protein and the amount of saturated fat and cholesterol found in chicken is much lower than in red meat, making it an excellent addition to a balanced diet. The American Heart Association has advised consuming chicken or fish instead of red meat for a lowered risk of cholesterol and subsequent heart disease development. Figs are a good source of potassium, a mineral that helps to control blood pressure and a good source of dietary fiber which has a positive effect on weight management.\u003c\/p\u003e\n\u003cp\u003e\u003cb\u003eLabneh Sauce –\u003c\/b\u003e\u003cspan\u003e \u003c\/span\u003eCool and creamy and tart, our labneh sauce is made from nutrient-packed Greek yogurt sweetened with a touch of orange and honey. What differentiates Greek yogurt from traditional yogurt is that Greek yogurt has been strained to remove the whey. As a result, Greek yogurt has a creamier, thicker texture and rich flavor. In addition, the removal of whey results in a healthier yogurt. The probiotics or healthy bacteria contained in the yogurt help promote a healthy gut. Eating Greek yogurt with probiotics helps increase the good bacteria in your gut. Which can help with several digestive issues. For example, it may help keep you regular and fight the bad bacteria that can cause diarrhea. Probiotics may also be helpful for those who suffer from irritable bowel syndrome and intestinal diseases such as Crohn's and ulcerative colitis.\u003c\/p\u003e\n\u003cp\u003e\u003cb\u003eRoasted Garlic Marble Potatoes –\u003c\/b\u003e\u003cspan\u003e \u003c\/span\u003eA simple all-natural complement to any dish, simply potatoes, olive oil and garlic. Potatoes contain a variety of phytonutrients that have antioxidant activity. Among these important health-promoting compounds are carotenoids, flavonoids, and caffeic acid, as well as unique tuber storage proteins, such as patatin, which exhibit activity against free radicals. Unfortunately, often the oils used to cook the potatoes have negative health consequences, which is why we only use olive oil. The main type of fat found in olive oil is monounsaturated fatty acids (MUFAs). MUFAs are considered a healthy dietary fat. MUFAs may help lower your risk of heart disease by improving related risk factors. For instance, MUFAs have been found to lower total cholesterol and low-density lipoprotein (LDL) cholesterol levels. In addition, some research shows that MUFAs may benefit insulin levels and blood sugar control, which can be helpful if you have or are at risk of type 2 diabetes.\u003c\/p\u003e\n\u003cp\u003e\u003cb\u003eBraised Cannellini Beans –\u003cspan\u003e \u003c\/span\u003e\u003c\/b\u003eSwiss chard adds bright color to tender cannellini beans and complements the beans nutty flavor. Braised in our home-made vegetable stock this side dish balances natural deliciousness and healthy goodness. Cannellini beans lead the pack of low-glycemic beans. They help to control blood sugar by metabolizing slowly and provide steady energy for hours following their consumption. This in turn helps stave off cravings for sugary foods and controls mood swings. Cannellini beans also have a detoxifying effect on the body as they are high in molybdenum which is a trace element by stimulating the action of detoxifying enzymes like sulfite oxidase and aldehyde. Cannellini beans are also a goldmine of antioxidants which provide numerous health benefits such as protecting your skin and the rest of your body from free radicals. The destructive actions of free radicals have been linked to the development of a number of degenerative conditions and diseases. These include cardiovascular diseases, thrombosis, atherosclerosis, immune system problems, Alzheimer's disease, arthritis, certain types of cancer, diabetes, and even dementia. Swiss chard packs a powerful nutritional punch, providing over 700% of your daily needs for vitamin K and over 200% of daily vitamin A needs in just one cup. Swiss chard contains the antioxidants alpha and beta-carotene, lutein, zeaxanthin, and choline.\u003c\/p\u003e\n\u003cp\u003e\u003cstrong\u003eOne order provides approximately 1 serving, 14 oz.\u003c\/strong\u003e\u003c\/p\u003e\n\u003ch2\u003e\u003cstrong\u003eIngredients\u003c\/strong\u003e\u003c\/h2\u003e\n\u003cmeta charset=\"utf-8\"\u003e\n\u003cp\u003e\u003cspan\u003e\u003cb\u003eChicken \u0026amp; Fruit Kabob:\u003c\/b\u003e Chicken Breast (Brined in Water, Sugar, Salt), Apricot, Figs, Date, Red Onion. Orange\u003c\/span\u003e\u003c\/p\u003e\n\u003cp\u003e\u003cb\u003eHoney Labneh Sauce:\u003c\/b\u003e\u003cspan\u003e \u003c\/span\u003eGreek Yogurt (Cultured Grade A Nonfat Milk), Honey, Orange Juice. Garlic Marble Potatoes: Marble Potatoes, Garlic Oil (Olive Oil, Garlic), Seasoning, Sea Salt.\u003c\/p\u003e\n\u003cp\u003e\u003cb\u003eCannellini Beans:\u003c\/b\u003e\u003cspan\u003e \u003c\/span\u003eCannellini Beans, Swiss Chard, Vegetable Stock (Water, Onion, Carrots, Celery, Olive Oil), Roasted Red Bell Peppers (Red Bell Peppers, Olive Oil), Onion, Lemon Juice, Garlic, Seasoning, Sea Salt.\u003c\/p\u003e\n\u003ch2\u003eCooking Instructions\u003c\/h2\u003e\n\u003cmeta charset=\"utf-8\"\u003e\n\u003cp\u003e\u003cstrong\u003eHeating Directions From Frozen:\u003c\/strong\u003e\u003cbr\u003e\u003cb\u003eStove Top:\u003c\/b\u003e\u003cspan\u003e \u003c\/span\u003e(Preferred Method) Bring water to a boil. Immerse pouch(es) in water, reduce heat to simmer and heat for 7 minutes. Side dishes and sauces (if included) require only 4½ to 5 minutes in the same pot.\u003c\/p\u003e\n\u003cp\u003e\u003cb\u003eMicrowave:\u003c\/b\u003e\u003cspan\u003e \u003c\/span\u003e(Alternative Method) Pierce hole in plastic film for venting. Place pouches on a microwave safe dish and heat on high for 4 to 4½ minutes, or until heated through Let product stand for 1 – 2 minutes before enjoying.\u003c\/p\u003e\n\u003cp\u003e\u003cb\u003eOven:\u003cspan\u003e \u003c\/span\u003e\u003c\/b\u003e(Not Recommended) Honey Labneh Sauce: Defrost under warm running water for about 5 minutes. Dispense by making a diagonal cut in one bottom corner of the pouch, and squeezing the contents out. Stir to recombine and enjoy.\u003c\/p\u003e\n\u003cp\u003e\u003cspan\u003eIn the event your meal is not fully reheated after removal from the pouches, you may continue reheating in a microwave on a microwave safe dish until done – which should be no more than another minute or two. An internal temperature of 158° F must be reached. Appliances vary, adjust accordingly.\u003c\/span\u003e\u003c\/p\u003e\n\u003cp\u003e\u003cstrong\u003eFor items without sauces or gravy, cut a hole in corner of pouch and drain excess liquid before plating.\u003c\/strong\u003e\u003c\/p\u003e\n\u003cp\u003e\u003cstrong\u003eAppliances vary, adjust accordingly. Caution: contents will be very hot. \u003c\/strong\u003e\u003c\/p\u003e\n\u003ch2\u003e\u003cstrong\u003eAllergens\u003c\/strong\u003e\u003c\/h2\u003e\n\u003cmeta charset=\"utf-8\"\u003e\n\u003cp\u003e\u003cstrong\u003e\u003cb\u003eOrange Honey Labneh Sauce:\u003c\/b\u003e\u003cspan\u003e \u003c\/span\u003e\u003c\/strong\u003eMilk.\u003c\/p\u003e","published_at":"2018-03-15T13:39:34-04:00","created_at":"2018-03-15T11:20:03-04:00","vendor":"Homebistro","type":"Individual Meals","tags":["Diabetic Friendly","Gluten Free","Healthy Gourmet","Individual Meal","Lower Sodium","Paleo"],"price":2199,"price_min":2199,"price_max":2199,"available":true,"price_varies":false,"compare_at_price":null,"compare_at_price_min":0,"compare_at_price_max":0,"compare_at_price_varies":false,"variants":[{"id":7039808471098,"title":"Default Title","option1":"Default Title","option2":null,"option3":null,"sku":"M-7884","requires_shipping":true,"taxable":true,"featured_image":null,"available":true,"name":"Mediterranean Chicken and Fruit Kabob","public_title":null,"options":["Default Title"],"price":2199,"weight":0,"compare_at_price":null,"inventory_management":null,"barcode":""}],"images":["\/\/cdn.shopify.com\/s\/files\/1\/0004\/5052\/7290\/products\/individual-meals-mediterranean-chicken-and-fruit-kabob-1.jpg?v=1550105635","\/\/cdn.shopify.com\/s\/files\/1\/0004\/5052\/7290\/products\/individual-meals-mediterranean-chicken-and-fruit-kabob-2.jpg?v=1550105635","\/\/cdn.shopify.com\/s\/files\/1\/0004\/5052\/7290\/products\/individual-meals-mediterranean-chicken-and-fruit-kabob-3.jpg?v=1550105635","\/\/cdn.shopify.com\/s\/files\/1\/0004\/5052\/7290\/products\/individual-meals-mediterranean-chicken-and-fruit-kabob-4.jpg?v=1550105635"],"featured_image":"\/\/cdn.shopify.com\/s\/files\/1\/0004\/5052\/7290\/products\/individual-meals-mediterranean-chicken-and-fruit-kabob-1.jpg?v=1550105635","options":["Title"],"content":"\u003cmeta charset=\"utf-8\"\u003e\n\u003cp\u003e\u003cspan\u003eA premium Colorado Native Foods chicken breast is skewered with apricot, figs dates and red onion then cooked to perfection, served with a cool and creamy labneh sauce and accompanied by garlic marble potatoes and Braised Cannellini Beans.\u003c\/span\u003e\u003c\/p\u003e\n\u003cmeta charset=\"utf-8\"\u003e\n\u003cp\u003e\u003cb\u003eChicken and Fruit Kabob –\u003c\/b\u003e\u003cspan\u003e \u003c\/span\u003eA recipe inspired by of Casablanca, the heart of Morocco where wanderers can buy kabobs and fresh fruit cooked on the spot off wheeled carts. Figs and dates add an all-natural sweetness to these skewers and blend perfectly with the chicken and the bite of the red onion. Chicken is a great source of lean protein and the amount of saturated fat and cholesterol found in chicken is much lower than in red meat, making it an excellent addition to a balanced diet. The American Heart Association has advised consuming chicken or fish instead of red meat for a lowered risk of cholesterol and subsequent heart disease development. Figs are a good source of potassium, a mineral that helps to control blood pressure and a good source of dietary fiber which has a positive effect on weight management.\u003c\/p\u003e\n\u003cp\u003e\u003cb\u003eLabneh Sauce –\u003c\/b\u003e\u003cspan\u003e \u003c\/span\u003eCool and creamy and tart, our labneh sauce is made from nutrient-packed Greek yogurt sweetened with a touch of orange and honey. What differentiates Greek yogurt from traditional yogurt is that Greek yogurt has been strained to remove the whey. As a result, Greek yogurt has a creamier, thicker texture and rich flavor. In addition, the removal of whey results in a healthier yogurt. The probiotics or healthy bacteria contained in the yogurt help promote a healthy gut. Eating Greek yogurt with probiotics helps increase the good bacteria in your gut. Which can help with several digestive issues. For example, it may help keep you regular and fight the bad bacteria that can cause diarrhea. Probiotics may also be helpful for those who suffer from irritable bowel syndrome and intestinal diseases such as Crohn's and ulcerative colitis.\u003c\/p\u003e\n\u003cp\u003e\u003cb\u003eRoasted Garlic Marble Potatoes –\u003c\/b\u003e\u003cspan\u003e \u003c\/span\u003eA simple all-natural complement to any dish, simply potatoes, olive oil and garlic. Potatoes contain a variety of phytonutrients that have antioxidant activity. Among these important health-promoting compounds are carotenoids, flavonoids, and caffeic acid, as well as unique tuber storage proteins, such as patatin, which exhibit activity against free radicals. Unfortunately, often the oils used to cook the potatoes have negative health consequences, which is why we only use olive oil. The main type of fat found in olive oil is monounsaturated fatty acids (MUFAs). MUFAs are considered a healthy dietary fat. MUFAs may help lower your risk of heart disease by improving related risk factors. For instance, MUFAs have been found to lower total cholesterol and low-density lipoprotein (LDL) cholesterol levels. In addition, some research shows that MUFAs may benefit insulin levels and blood sugar control, which can be helpful if you have or are at risk of type 2 diabetes.\u003c\/p\u003e\n\u003cp\u003e\u003cb\u003eBraised Cannellini Beans –\u003cspan\u003e \u003c\/span\u003e\u003c\/b\u003eSwiss chard adds bright color to tender cannellini beans and complements the beans nutty flavor. Braised in our home-made vegetable stock this side dish balances natural deliciousness and healthy goodness. Cannellini beans lead the pack of low-glycemic beans. They help to control blood sugar by metabolizing slowly and provide steady energy for hours following their consumption. This in turn helps stave off cravings for sugary foods and controls mood swings. Cannellini beans also have a detoxifying effect on the body as they are high in molybdenum which is a trace element by stimulating the action of detoxifying enzymes like sulfite oxidase and aldehyde. Cannellini beans are also a goldmine of antioxidants which provide numerous health benefits such as protecting your skin and the rest of your body from free radicals. The destructive actions of free radicals have been linked to the development of a number of degenerative conditions and diseases. These include cardiovascular diseases, thrombosis, atherosclerosis, immune system problems, Alzheimer's disease, arthritis, certain types of cancer, diabetes, and even dementia. Swiss chard packs a powerful nutritional punch, providing over 700% of your daily needs for vitamin K and over 200% of daily vitamin A needs in just one cup. Swiss chard contains the antioxidants alpha and beta-carotene, lutein, zeaxanthin, and choline.\u003c\/p\u003e\n\u003cp\u003e\u003cstrong\u003eOne order provides approximately 1 serving, 14 oz.\u003c\/strong\u003e\u003c\/p\u003e\n\u003ch2\u003e\u003cstrong\u003eIngredients\u003c\/strong\u003e\u003c\/h2\u003e\n\u003cmeta charset=\"utf-8\"\u003e\n\u003cp\u003e\u003cspan\u003e\u003cb\u003eChicken \u0026amp; Fruit Kabob:\u003c\/b\u003e Chicken Breast (Brined in Water, Sugar, Salt), Apricot, Figs, Date, Red Onion. Orange\u003c\/span\u003e\u003c\/p\u003e\n\u003cp\u003e\u003cb\u003eHoney Labneh Sauce:\u003c\/b\u003e\u003cspan\u003e \u003c\/span\u003eGreek Yogurt (Cultured Grade A Nonfat Milk), Honey, Orange Juice. Garlic Marble Potatoes: Marble Potatoes, Garlic Oil (Olive Oil, Garlic), Seasoning, Sea Salt.\u003c\/p\u003e\n\u003cp\u003e\u003cb\u003eCannellini Beans:\u003c\/b\u003e\u003cspan\u003e \u003c\/span\u003eCannellini Beans, Swiss Chard, Vegetable Stock (Water, Onion, Carrots, Celery, Olive Oil), Roasted Red Bell Peppers (Red Bell Peppers, Olive Oil), Onion, Lemon Juice, Garlic, Seasoning, Sea Salt.\u003c\/p\u003e\n\u003ch2\u003eCooking Instructions\u003c\/h2\u003e\n\u003cmeta charset=\"utf-8\"\u003e\n\u003cp\u003e\u003cstrong\u003eHeating Directions From Frozen:\u003c\/strong\u003e\u003cbr\u003e\u003cb\u003eStove Top:\u003c\/b\u003e\u003cspan\u003e \u003c\/span\u003e(Preferred Method) Bring water to a boil. Immerse pouch(es) in water, reduce heat to simmer and heat for 7 minutes. Side dishes and sauces (if included) require only 4½ to 5 minutes in the same pot.\u003c\/p\u003e\n\u003cp\u003e\u003cb\u003eMicrowave:\u003c\/b\u003e\u003cspan\u003e \u003c\/span\u003e(Alternative Method) Pierce hole in plastic film for venting. Place pouches on a microwave safe dish and heat on high for 4 to 4½ minutes, or until heated through Let product stand for 1 – 2 minutes before enjoying.\u003c\/p\u003e\n\u003cp\u003e\u003cb\u003eOven:\u003cspan\u003e \u003c\/span\u003e\u003c\/b\u003e(Not Recommended) Honey Labneh Sauce: Defrost under warm running water for about 5 minutes. Dispense by making a diagonal cut in one bottom corner of the pouch, and squeezing the contents out. Stir to recombine and enjoy.\u003c\/p\u003e\n\u003cp\u003e\u003cspan\u003eIn the event your meal is not fully reheated after removal from the pouches, you may continue reheating in a microwave on a microwave safe dish until done – which should be no more than another minute or two. An internal temperature of 158° F must be reached. Appliances vary, adjust accordingly.\u003c\/span\u003e\u003c\/p\u003e\n\u003cp\u003e\u003cstrong\u003eFor items without sauces or gravy, cut a hole in corner of pouch and drain excess liquid before plating.\u003c\/strong\u003e\u003c\/p\u003e\n\u003cp\u003e\u003cstrong\u003eAppliances vary, adjust accordingly. Caution: contents will be very hot. \u003c\/strong\u003e\u003c\/p\u003e\n\u003ch2\u003e\u003cstrong\u003eAllergens\u003c\/strong\u003e\u003c\/h2\u003e\n\u003cmeta charset=\"utf-8\"\u003e\n\u003cp\u003e\u003cstrong\u003e\u003cb\u003eOrange Honey Labneh Sauce:\u003c\/b\u003e\u003cspan\u003e \u003c\/span\u003e\u003c\/strong\u003eMilk.\u003c\/p\u003e"}
Mediterranean Chicken and Fruit Kabob
Mediterranean Chicken and Fruit Kabob
A premium Colorado Native Foods chicken breast is skewered with apricot, figs dates and red onion then cooked to perfection, served with a cool and creamy labneh sauce and accompanied by garlic marble potatoes and Braised Cannellini Beans.
Chicken and Fruit Kabob – A recipe inspired by of Casablanca, the heart of Morocco where wanderers can buy kabobs and fresh fruit cooked on the spot off wheeled carts. Figs and dates add an all-natural sweetness to these skewers and blend perfectly with the chicken and the bite of the red onion. Chicken is a great source of lean protein and the amount of saturated fat and cholesterol found in chicken is much lower than in red meat, making it an excellent addition to a balanced diet. The American Heart Association has advised consuming chicken or fish instead of red meat for a lowered risk of cholesterol and subsequent heart disease development. Figs are a good source of potassium, a mineral that helps to control blood pressure and a good source of dietary fiber which has a positive effect on weight management.
Labneh Sauce – Cool and creamy and tart, our labneh sauce is made from nutrient-packed Greek yogurt sweetened with a touch of orange and honey. What differentiates Greek yogurt from traditional yogurt is that Greek yogurt has been strained to remove the whey. As a result, Greek yogurt has a creamier, thicker texture and rich flavor. In addition, the removal of whey results in a healthier yogurt. The probiotics or healthy bacteria contained in the yogurt help promote a healthy gut. Eating Greek yogurt with probiotics helps increase the good bacteria in your gut. Which can help with several digestive issues. For example, it may help keep you regular and fight the bad bacteria that can cause diarrhea. Probiotics may also be helpful for those who suffer from irritable bowel syndrome and intestinal diseases such as Crohn's and ulcerative colitis.
Roasted Garlic Marble Potatoes – A simple all-natural complement to any dish, simply potatoes, olive oil and garlic. Potatoes contain a variety of phytonutrients that have antioxidant activity. Among these important health-promoting compounds are carotenoids, flavonoids, and caffeic acid, as well as unique tuber storage proteins, such as patatin, which exhibit activity against free radicals. Unfortunately, often the oils used to cook the potatoes have negative health consequences, which is why we only use olive oil. The main type of fat found in olive oil is monounsaturated fatty acids (MUFAs). MUFAs are considered a healthy dietary fat. MUFAs may help lower your risk of heart disease by improving related risk factors. For instance, MUFAs have been found to lower total cholesterol and low-density lipoprotein (LDL) cholesterol levels. In addition, some research shows that MUFAs may benefit insulin levels and blood sugar control, which can be helpful if you have or are at risk of type 2 diabetes.
Braised Cannellini Beans – Swiss chard adds bright color to tender cannellini beans and complements the beans nutty flavor. Braised in our home-made vegetable stock this side dish balances natural deliciousness and healthy goodness. Cannellini beans lead the pack of low-glycemic beans. They help to control blood sugar by metabolizing slowly and provide steady energy for hours following their consumption. This in turn helps stave off cravings for sugary foods and controls mood swings. Cannellini beans also have a detoxifying effect on the body as they are high in molybdenum which is a trace element by stimulating the action of detoxifying enzymes like sulfite oxidase and aldehyde. Cannellini beans are also a goldmine of antioxidants which provide numerous health benefits such as protecting your skin and the rest of your body from free radicals. The destructive actions of free radicals have been linked to the development of a number of degenerative conditions and diseases. These include cardiovascular diseases, thrombosis, atherosclerosis, immune system problems, Alzheimer's disease, arthritis, certain types of cancer, diabetes, and even dementia. Swiss chard packs a powerful nutritional punch, providing over 700% of your daily needs for vitamin K and over 200% of daily vitamin A needs in just one cup. Swiss chard contains the antioxidants alpha and beta-carotene, lutein, zeaxanthin, and choline.
One order provides approximately 1 serving, 14 oz.
Ingredients
Chicken & Fruit Kabob: Chicken Breast (Brined in Water, Sugar, Salt), Apricot, Figs, Date, Red Onion. Orange
Honey Labneh Sauce: Greek Yogurt (Cultured Grade A Nonfat Milk), Honey, Orange Juice. Garlic Marble Potatoes: Marble Potatoes, Garlic Oil (Olive Oil, Garlic), Seasoning, Sea Salt.
Cannellini Beans: Cannellini Beans, Swiss Chard, Vegetable Stock (Water, Onion, Carrots, Celery, Olive Oil), Roasted Red Bell Peppers (Red Bell Peppers, Olive Oil), Onion, Lemon Juice, Garlic, Seasoning, Sea Salt.
Cooking Instructions
Heating Directions From Frozen:
Stove Top: (Preferred Method) Bring water to a boil. Immerse pouch(es) in water, reduce heat to simmer and heat for 7 minutes. Side dishes and sauces (if included) require only 4½ to 5 minutes in the same pot.
Microwave: (Alternative Method) Pierce hole in plastic film for venting. Place pouches on a microwave safe dish and heat on high for 4 to 4½ minutes, or until heated through Let product stand for 1 – 2 minutes before enjoying.
Oven: (Not Recommended) Honey Labneh Sauce: Defrost under warm running water for about 5 minutes. Dispense by making a diagonal cut in one bottom corner of the pouch, and squeezing the contents out. Stir to recombine and enjoy.
In the event your meal is not fully reheated after removal from the pouches, you may continue reheating in a microwave on a microwave safe dish until done – which should be no more than another minute or two. An internal temperature of 158° F must be reached. Appliances vary, adjust accordingly.
For items without sauces or gravy, cut a hole in corner of pouch and drain excess liquid before plating.
Appliances vary, adjust accordingly. Caution: contents will be very hot. 
Allergens
Orange Honey Labneh Sauce: Milk.
Prepared by world class chefs and delivered frozen
Ready to eat within minutes
✓   Made With Natural Ingredients
✓   Delivered Right To Your Door
✓   Diabetic, Paleo, Heart Healthy, Vegetarian Options
✓   Doing Business Since 1999
✓   Courteous, Knowledgeable & Professional Support
✓   Complete PCI Compliant SSL Secure Ordering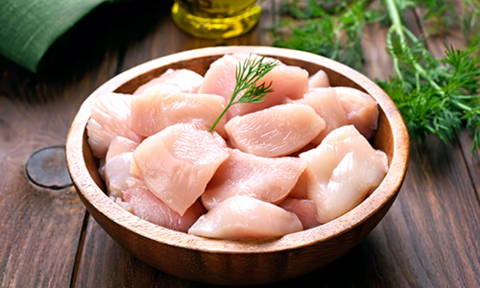 We've partnered with Tecumseh Farms, their Smart Chicken is 100% USDA-verified Pure Air-Chilled (with no added water). Every chicken is raised without antibiotics, growth stimulants, and animal by-products and is handled humanely and responsibly at every step. Every cut is deboned and trimmed by hand for chicken with better texture, flavor, and nutrition. "the right way includes the proper treatment and care of our chickens and also our people, and the utmost care and discretion in how we process and package our product.
Further, we believed that we could do so while keeping a careful eye on the environment and on the sustainability and renewability of the resources we would need to access. We knew we would have to be able to do things efficiently, but we also believed that consumers would be willing to pay a little more for a superior product produced with these principles in mind." – Smart Chicken.com
Made With Natural Ingredients
Hormone and Steroid Free Diet
---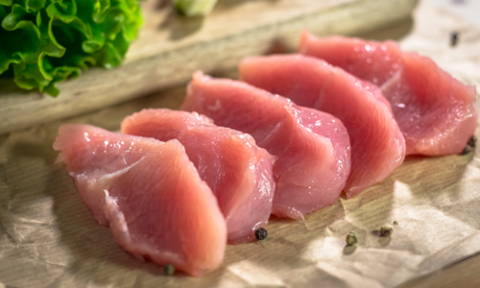 From one secluded valley protected by peaks of stone, nourished by clean mountain air and caring hands, comes a bird of remarkable reputation. This is turkey like no other. Norbest brand turkeys are raised by ranching families working together to produce quality turkey products. Norbest turkey production practices are humane, with the health and comfort of the birds of paramount importance.
Made With Natural Ingredients
Hormone and Steroid Free Diet
---
We've partnered with Aspen Ridge Natural Beef which holds itself to the highest stan­dards on genetics, animal handling and feeding protocols. The result is premium natural beef of unparalleled quality.
Breed Specific - Angus by Genetics
Hormone and Steroid Free Diet
Handling Practices Validated by Humane Farm Animal Care
---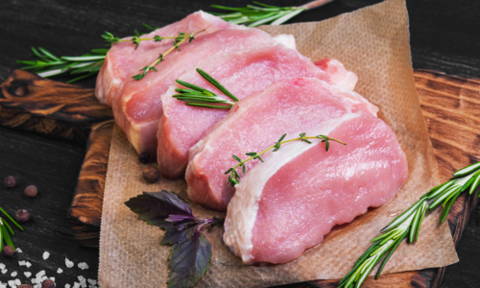 Situated across the American Midwestern countryside are the nearly 20 family-owned farms, which carefully and sustainably produce the premium pork used by Home Bistro. At each farm, sows and pigs are diligently cared for in temperature-controlled environments. These smaller farms allow farmers to devote individualized attention to the animals and promote sustainable agricultural practices. All drivers and handlers are trained and tested on humane animal welfare practices.
Breed Specific - Duroc breed by Genetics for unparalleled tenderness
Hormone and Steroid Free Diet
Handling Practices Validated by Humane Farm Animal Care
Minimally Processed for Maximum Flavor