{"id":543829622842,"title":"Mediterranean Orange Honey Shrimp","handle":"mediterranean-orange-honey-shrimp","description":"\u003cmeta charset=\"utf-8\"\u003e\n\u003cp\u003e\u003cspan\u003eThere are two chief reasons we really love shrimp. First, it's delicate texture. Second, shrimp can take on so many different flavors. The shrimp is served with an orange honey labneh sauce. Our labneh sauce is made from nutrient-packed Greek yogurt with a touch of orange and honey. Accompanied by Risotto with herbs de Provence and spicy chili broccoli.\u003c\/span\u003e\u003c\/p\u003e\n\u003cmeta charset=\"utf-8\"\u003e\n\u003cp\u003e\u003cb\u003eShrimp –\u003cspan\u003e \u003c\/span\u003e\u003c\/b\u003eLow in calories and high in protein shrimp is a great addition to any diet. Aside from protein, shrimp provide a pretty impressive array of nutrients. Four ounces contains over 100% of the Daily Value for selenium, over 75% for vitamin B12, over 50% for phosphorous, and over 30% for choline, copper, and iodine.\u003cb\u003e\u003c\/b\u003e\u003c\/p\u003e\n\u003cp\u003e\u003cb\u003eLabneh Sauce –\u003c\/b\u003e\u003cspan\u003e \u003c\/span\u003eCool and creamy and tart, our labneh sauce is made from nutrient-packed Greek yogurt sweetened with a touch of orange and honey. What differentiates Greek yogurt from traditional yogurt is that Greek yogurt has been strained to remove the whey. As a result, Greek yogurt has a creamier, thicker texture and rich flavor. In addition, the removal of whey results in a healthier yogurt. The probiotics or healthy bacteria contained in the yogurt help promote a healthy gut. Eating Greek yogurt with probiotics helps increase the good bacteria in your gut. Which can help with several digestive issues. For example, it may help keep you regular and fight the bad bacteria that can cause diarrhea. Probiotics may also be helpful for those who suffer from irritable bowel syndrome and intestinal diseases such as Crohn's and ulcerative colitis.\u003c\/p\u003e\n\u003cp\u003e\u003cb\u003e –\u003c\/b\u003e\u003cspan\u003e \u003c\/span\u003eMade with Arborio rice and our homemade vegetable stock this dish is filled with flavor and nutrition. Arborio Rice is high in muscle building protein and packed in vitamins and minerals. Arborio rice will give you about 12% of your daily dose of vitamins Vitamin A and C. Its Vitamin C content helps protect your teeth and bones. A full cup of Arborio rice fulfills about 45% of your daily requirement of essential nutrients.\u003c\/p\u003e\n\u003cp\u003e\u003cb\u003eSpicy Chili Broccoli –\u003c\/b\u003e\u003cspan\u003e \u003c\/span\u003eOlive Oil, Lemon Juice, Garlic, Chili Flakes, Sea Salt – simple all natural and delicious. Broccoli comes with many health benefits, it is rich in essential vitamins and minerals in addition to fiber and contains sulforophane, a sulfur-containing compound that is thought to have anti-cancer properties. One cup of broccoli contains as much vitamin C as an orange.\u003c\/p\u003e\n\u003cp\u003e\u003cstrong\u003eOne order provides approximately 1 serving, 14 oz.\u003c\/strong\u003e\u003c\/p\u003e\n\u003ch2\u003e\u003cstrong\u003eIngredients\u003c\/strong\u003e\u003c\/h2\u003e\n\u003cmeta charset=\"utf-8\"\u003e\n\u003cp\u003e\u003cspan\u003e\u003cb\u003eShrimp:\u003c\/b\u003e Shrimp.\u003cb\u003e\u003cbr\u003e\u003c\/b\u003e\u003cbr\u003e\u003cb\u003eOrange Honey Labneh:\u003c\/b\u003e Greek Yogurt (Cultured Grade A Nonfat Milk), Honey, Orange Juice.\u003c\/span\u003e\u003c\/p\u003e\n\u003cp\u003e\u003cb\u003eRisotto:\u003c\/b\u003e\u003cspan\u003e \u003c\/span\u003eArborio Rice (Water, Arborio Rice), Milk (Grade A Reduced Fat Milk, Vitamin A Palmitate, Vitamin D3), Cream (Milk), Vegetable Stock (Water, Onion, Carrots, Celery, Olive Oil), White Wine (contains Sulfites), Red Onion, Olive Oil, Seasoning, Salt.\u003cb\u003e\u003c\/b\u003e\u003c\/p\u003e\n\u003cp\u003e\u003cb\u003eBroccoli:\u003c\/b\u003e\u003cspan\u003e \u003c\/span\u003eBroccoli, Olive Oil, Lemon Juice, Garlic, Chili Flakes, Sea Salt.\u003c\/p\u003e\n\u003ch2\u003eCooking Instructions\u003c\/h2\u003e\n\u003cmeta charset=\"utf-8\"\u003e\n\u003cdiv class=\"tab-content resp-tab-content resp-tab-content-active\" id=\"tab-cooking-instructions\" aria-labelledby=\"tab_item-3\"\u003e\n\u003cp\u003e\u003cstrong\u003eHeating Directions From Frozen:\u003c\/strong\u003e\u003cbr\u003e\u003cb\u003eStove Top:\u003c\/b\u003e\u003cspan\u003e \u003c\/span\u003e(Preferred Method) Bring a pot of water to a boil. Immerse shrimp pouch and the side dish pouches into gently boiling water for about 5 minutes. In the event the food is not fully reheated after removal from pouch, continue reheating in microwave on a microwave safe dish.\u003c\/p\u003e\n\u003cp\u003e\u003cb\u003eMicrowave:\u003c\/b\u003e\u003cspan\u003e \u003c\/span\u003ePlace pouches on a microwave safe dish. Pierce a small hole in each pouch for venting and heat on high for 1.5 to 2 minutes. In the event your meal is not fully reheated after removal from pouch, you may continue reheating in a microwave on a microwave safe dish until done – which should be no more than another minute or two. An internal temperature of 168° F must be reached. Appliances vary, adjust accordingly.\u003c\/p\u003e\n\u003cp\u003e\u003cb\u003eOven:\u003cspan\u003e \u003c\/span\u003e\u003c\/b\u003e(Not Recommended)\u003c\/p\u003e\n\u003cp\u003e\u003cb\u003eOrange Honey Labneh:\u003c\/b\u003e\u003cspan\u003e \u003c\/span\u003eDefrost under warm running water for about 5 minutes. Massage pouch to recombine. Dispense by making a diagonal cut in one bottom corner of the pouch, and squeezing the contents out.\u003c\/p\u003e\n\u003cp\u003e\u003cspan\u003eIn the event your meal is not fully reheated after removal from the pouches, you may continue reheating in a microwave on a microwave safe dish until done – which should be no more than another minute or two. An internal temperature of 158° F must be reached. Appliances vary, adjust accordingly.\u003c\/span\u003e\u003c\/p\u003e\n\u003cp\u003e\u003cstrong\u003eFor items without sauces or gravy, cut a hole in corner of pouch and drain excess liquid before plating.\u003c\/strong\u003e\u003c\/p\u003e\n\u003cp\u003e\u003cstrong\u003eAppliances vary, adjust accordingly. Caution: contents will be very hot. \u003c\/strong\u003e\u003c\/p\u003e\n\u003ch2\u003e\u003cstrong\u003eAllergens\u003c\/strong\u003e\u003c\/h2\u003e\n\u003cmeta charset=\"utf-8\"\u003e\n\u003cp\u003e\u003cstrong\u003e\u003cb\u003eShrimp:\u003c\/b\u003e\u003c\/strong\u003e Shellfish (Shrimp)\u003cstrong\u003e\u003cbr\u003eOrange Honey Labneh:\u003c\/strong\u003e Contains Milk.\u003cstrong\u003e\u003cbr\u003e\u003cb\u003eRisotto:\u003c\/b\u003e\u003cspan\u003e \u003c\/span\u003e\u003c\/strong\u003eContains Milk, Sulfites.\u003c\/p\u003e\n\u003c\/div\u003e","published_at":"2018-03-15T13:35:05-04:00","created_at":"2018-03-15T11:55:10-04:00","vendor":"Homebistro","type":"Individual Meals","tags":["Diabetic Friendly","Healthy Gourmet","Individual Meal","Low Carb","Lower Sodium"],"price":2199,"price_min":2199,"price_max":2199,"available":true,"price_varies":false,"compare_at_price":null,"compare_at_price_min":0,"compare_at_price_max":0,"compare_at_price_varies":false,"variants":[{"id":7039939346490,"title":"Default Title","option1":"Default Title","option2":null,"option3":null,"sku":"M-7947","requires_shipping":true,"taxable":true,"featured_image":null,"available":true,"name":"Mediterranean Orange Honey Shrimp","public_title":null,"options":["Default Title"],"price":2199,"weight":0,"compare_at_price":null,"inventory_management":null,"barcode":""}],"images":["\/\/cdn.shopify.com\/s\/files\/1\/0004\/5052\/7290\/products\/individual-meals-mediterranean-orange-honey-shrimp-1.jpg?v=1550105416","\/\/cdn.shopify.com\/s\/files\/1\/0004\/5052\/7290\/products\/individual-meals-mediterranean-orange-honey-shrimp-2.jpg?v=1550105416","\/\/cdn.shopify.com\/s\/files\/1\/0004\/5052\/7290\/products\/individual-meals-mediterranean-orange-honey-shrimp-3.jpg?v=1550105416","\/\/cdn.shopify.com\/s\/files\/1\/0004\/5052\/7290\/products\/individual-meals-mediterranean-orange-honey-shrimp-4.jpg?v=1550105416"],"featured_image":"\/\/cdn.shopify.com\/s\/files\/1\/0004\/5052\/7290\/products\/individual-meals-mediterranean-orange-honey-shrimp-1.jpg?v=1550105416","options":["Title"],"content":"\u003cmeta charset=\"utf-8\"\u003e\n\u003cp\u003e\u003cspan\u003eThere are two chief reasons we really love shrimp. First, it's delicate texture. Second, shrimp can take on so many different flavors. The shrimp is served with an orange honey labneh sauce. Our labneh sauce is made from nutrient-packed Greek yogurt with a touch of orange and honey. Accompanied by Risotto with herbs de Provence and spicy chili broccoli.\u003c\/span\u003e\u003c\/p\u003e\n\u003cmeta charset=\"utf-8\"\u003e\n\u003cp\u003e\u003cb\u003eShrimp –\u003cspan\u003e \u003c\/span\u003e\u003c\/b\u003eLow in calories and high in protein shrimp is a great addition to any diet. Aside from protein, shrimp provide a pretty impressive array of nutrients. Four ounces contains over 100% of the Daily Value for selenium, over 75% for vitamin B12, over 50% for phosphorous, and over 30% for choline, copper, and iodine.\u003cb\u003e\u003c\/b\u003e\u003c\/p\u003e\n\u003cp\u003e\u003cb\u003eLabneh Sauce –\u003c\/b\u003e\u003cspan\u003e \u003c\/span\u003eCool and creamy and tart, our labneh sauce is made from nutrient-packed Greek yogurt sweetened with a touch of orange and honey. What differentiates Greek yogurt from traditional yogurt is that Greek yogurt has been strained to remove the whey. As a result, Greek yogurt has a creamier, thicker texture and rich flavor. In addition, the removal of whey results in a healthier yogurt. The probiotics or healthy bacteria contained in the yogurt help promote a healthy gut. Eating Greek yogurt with probiotics helps increase the good bacteria in your gut. Which can help with several digestive issues. For example, it may help keep you regular and fight the bad bacteria that can cause diarrhea. Probiotics may also be helpful for those who suffer from irritable bowel syndrome and intestinal diseases such as Crohn's and ulcerative colitis.\u003c\/p\u003e\n\u003cp\u003e\u003cb\u003e –\u003c\/b\u003e\u003cspan\u003e \u003c\/span\u003eMade with Arborio rice and our homemade vegetable stock this dish is filled with flavor and nutrition. Arborio Rice is high in muscle building protein and packed in vitamins and minerals. Arborio rice will give you about 12% of your daily dose of vitamins Vitamin A and C. Its Vitamin C content helps protect your teeth and bones. A full cup of Arborio rice fulfills about 45% of your daily requirement of essential nutrients.\u003c\/p\u003e\n\u003cp\u003e\u003cb\u003eSpicy Chili Broccoli –\u003c\/b\u003e\u003cspan\u003e \u003c\/span\u003eOlive Oil, Lemon Juice, Garlic, Chili Flakes, Sea Salt – simple all natural and delicious. Broccoli comes with many health benefits, it is rich in essential vitamins and minerals in addition to fiber and contains sulforophane, a sulfur-containing compound that is thought to have anti-cancer properties. One cup of broccoli contains as much vitamin C as an orange.\u003c\/p\u003e\n\u003cp\u003e\u003cstrong\u003eOne order provides approximately 1 serving, 14 oz.\u003c\/strong\u003e\u003c\/p\u003e\n\u003ch2\u003e\u003cstrong\u003eIngredients\u003c\/strong\u003e\u003c\/h2\u003e\n\u003cmeta charset=\"utf-8\"\u003e\n\u003cp\u003e\u003cspan\u003e\u003cb\u003eShrimp:\u003c\/b\u003e Shrimp.\u003cb\u003e\u003cbr\u003e\u003c\/b\u003e\u003cbr\u003e\u003cb\u003eOrange Honey Labneh:\u003c\/b\u003e Greek Yogurt (Cultured Grade A Nonfat Milk), Honey, Orange Juice.\u003c\/span\u003e\u003c\/p\u003e\n\u003cp\u003e\u003cb\u003eRisotto:\u003c\/b\u003e\u003cspan\u003e \u003c\/span\u003eArborio Rice (Water, Arborio Rice), Milk (Grade A Reduced Fat Milk, Vitamin A Palmitate, Vitamin D3), Cream (Milk), Vegetable Stock (Water, Onion, Carrots, Celery, Olive Oil), White Wine (contains Sulfites), Red Onion, Olive Oil, Seasoning, Salt.\u003cb\u003e\u003c\/b\u003e\u003c\/p\u003e\n\u003cp\u003e\u003cb\u003eBroccoli:\u003c\/b\u003e\u003cspan\u003e \u003c\/span\u003eBroccoli, Olive Oil, Lemon Juice, Garlic, Chili Flakes, Sea Salt.\u003c\/p\u003e\n\u003ch2\u003eCooking Instructions\u003c\/h2\u003e\n\u003cmeta charset=\"utf-8\"\u003e\n\u003cdiv class=\"tab-content resp-tab-content resp-tab-content-active\" id=\"tab-cooking-instructions\" aria-labelledby=\"tab_item-3\"\u003e\n\u003cp\u003e\u003cstrong\u003eHeating Directions From Frozen:\u003c\/strong\u003e\u003cbr\u003e\u003cb\u003eStove Top:\u003c\/b\u003e\u003cspan\u003e \u003c\/span\u003e(Preferred Method) Bring a pot of water to a boil. Immerse shrimp pouch and the side dish pouches into gently boiling water for about 5 minutes. In the event the food is not fully reheated after removal from pouch, continue reheating in microwave on a microwave safe dish.\u003c\/p\u003e\n\u003cp\u003e\u003cb\u003eMicrowave:\u003c\/b\u003e\u003cspan\u003e \u003c\/span\u003ePlace pouches on a microwave safe dish. Pierce a small hole in each pouch for venting and heat on high for 1.5 to 2 minutes. In the event your meal is not fully reheated after removal from pouch, you may continue reheating in a microwave on a microwave safe dish until done – which should be no more than another minute or two. An internal temperature of 168° F must be reached. Appliances vary, adjust accordingly.\u003c\/p\u003e\n\u003cp\u003e\u003cb\u003eOven:\u003cspan\u003e \u003c\/span\u003e\u003c\/b\u003e(Not Recommended)\u003c\/p\u003e\n\u003cp\u003e\u003cb\u003eOrange Honey Labneh:\u003c\/b\u003e\u003cspan\u003e \u003c\/span\u003eDefrost under warm running water for about 5 minutes. Massage pouch to recombine. Dispense by making a diagonal cut in one bottom corner of the pouch, and squeezing the contents out.\u003c\/p\u003e\n\u003cp\u003e\u003cspan\u003eIn the event your meal is not fully reheated after removal from the pouches, you may continue reheating in a microwave on a microwave safe dish until done – which should be no more than another minute or two. An internal temperature of 158° F must be reached. Appliances vary, adjust accordingly.\u003c\/span\u003e\u003c\/p\u003e\n\u003cp\u003e\u003cstrong\u003eFor items without sauces or gravy, cut a hole in corner of pouch and drain excess liquid before plating.\u003c\/strong\u003e\u003c\/p\u003e\n\u003cp\u003e\u003cstrong\u003eAppliances vary, adjust accordingly. Caution: contents will be very hot. \u003c\/strong\u003e\u003c\/p\u003e\n\u003ch2\u003e\u003cstrong\u003eAllergens\u003c\/strong\u003e\u003c\/h2\u003e\n\u003cmeta charset=\"utf-8\"\u003e\n\u003cp\u003e\u003cstrong\u003e\u003cb\u003eShrimp:\u003c\/b\u003e\u003c\/strong\u003e Shellfish (Shrimp)\u003cstrong\u003e\u003cbr\u003eOrange Honey Labneh:\u003c\/strong\u003e Contains Milk.\u003cstrong\u003e\u003cbr\u003e\u003cb\u003eRisotto:\u003c\/b\u003e\u003cspan\u003e \u003c\/span\u003e\u003c\/strong\u003eContains Milk, Sulfites.\u003c\/p\u003e\n\u003c\/div\u003e"}
Mediterranean Orange Honey Shrimp
Mediterranean Orange Honey Shrimp
Prepared by world class chefs and delivered frozen
Ready to eat within minutes
Are there any contracts or commitments with Home Bistro?
Absolutely not! Some companies ask you to commit or lock you in with regular monthly shipments. At Home Bistro, all we ask is that you give our premium meals and services a chance, and when you like your experience, you can reorder at any time, and as much or as little as you'd like.
What if I have a question about my order?
You can contact our Customer Service Department by emailing support@homebistro.com and they will be more than happy to answer your questions.
How do I pay for my Home Bistro meals?
We accept all major forms of credit and debit cards.
I don't like to buy over the Internet because I'm concerned about security. How else can I place an order?
We use state-of-the-art encryption methods to ensure your security, but you may email support@homebistro.com and we will call you.
I just placed an order online. How will I know that it has been received?
Once you place your order and complete the checkout process, the last page you see will tell you your checkout is complete (you will find your order number here as well). Shortly after you place your order you will receive an email acknowledgment and your order summary.
How do I redeem a gift certificate?
Gift certificates purchased after March 2nd, 2018, can be redeemed directly on our website at the checkout. If you purchased or received your gift certificate(s)prior to March 2nd, 2018, you can redeem them by emailing support@homebistro.com and requesting an updated gift certificate number.
Does Home Bistro sell gift certificates?
Why does Home Bistro make a great gift?
Food always makes a great gift choice for holidays, anniversaries, birthdays, Mother's Day, Father's Day, a special gift for him or her, or any gift-giving event. Additionally, food gifts are often given to new homeowners, new mothers and those recuperating from an illness or injury. Home Bistro makes great corporate gifts as well.
Can you deliver to a P.O. box?
Unfortunately, we cannot ship to P.O. boxes.
Do I have to be home to receive my meals?
No. All of our orders are shipped with FedEx and are shipped as "Driver Release." This means the package will be delivered to your, or the recipient address with no signature required. Packages can be left at any exterior door, so please be sure to check thoroughly on the day your order is scheduled for delivery. If you are shipping to someone other than yourself, please be sure to notify the recipient that a perishable gift will be delivered to them.
What if I receive my meals and the dry ice has melted?
If your order arrived on the scheduled delivery day, and the meals are still "refrigerator cold" to the touch, they can be safely stored in your freezer with no reduction in quality.
How long does delivery take?
Most orders ship to within 1 to 3 business days from the day you place your order.
How long will it take me to prepare a Home Bistro meal?
All of our complete individual meals are designed to be boiled in their bags for optimal reheating, and all come with easy microwave instructions and are ready to enjoy in just 10 minutes or less. Specific heating instructions are on every product you purchase from Home Bistro.
How many servings are in each meal?
Our meals are designed to provide one adult serving.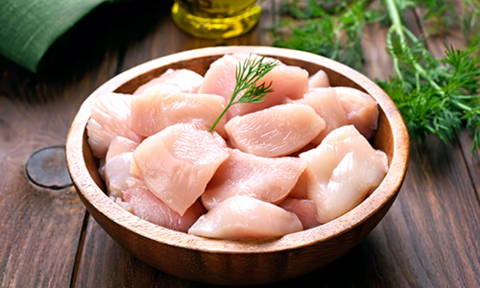 We've partnered with Tecumseh Farms, their Smart Chicken is 100% USDA-verified Pure Air-Chilled (with no added water). Every chicken is raised without antibiotics, growth stimulants, and animal by-products and is handled humanely and responsibly at every step. Every cut is deboned and trimmed by hand for chicken with better texture, flavor, and nutrition. "the right way includes the proper treatment and care of our chickens and also our people, and the utmost care and discretion in how we process and package our product.
Further, we believed that we could do so while keeping a careful eye on the environment and on the sustainability and renewability of the resources we would need to access. We knew we would have to be able to do things efficiently, but we also believed that consumers would be willing to pay a little more for a superior product produced with these principles in mind." – Smart Chicken.com
Made With Natural Ingredients
Hormone and Steroid Free Diet
---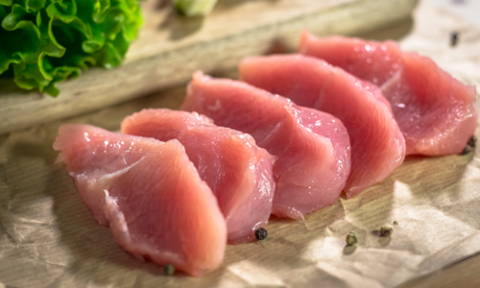 From one secluded valley protected by peaks of stone, nourished by clean mountain air and caring hands, comes a bird of remarkable reputation. This is turkey like no other. Norbest brand turkeys are raised by ranching families working together to produce quality turkey products. Norbest turkey production practices are humane, with the health and comfort of the birds of paramount importance.
Made With Natural Ingredients
Hormone and Steroid Free Diet
---
We've partnered with Aspen Ridge Natural Beef which holds itself to the highest stan­dards on genetics, animal handling and feeding protocols. The result is premium natural beef of unparalleled quality.
Breed Specific - Angus by Genetics
Hormone and Steroid Free Diet
Handling Practices Validated by Humane Farm Animal Care
---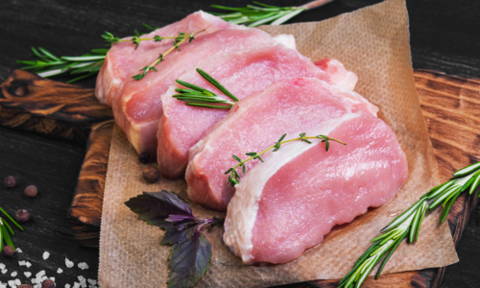 Situated across the American Midwestern countryside are the nearly 20 family-owned farms, which carefully and sustainably produce the premium pork used by Home Bistro. At each farm, sows and pigs are diligently cared for in temperature-controlled environments. These smaller farms allow farmers to devote individualized attention to the animals and promote sustainable agricultural practices. All drivers and handlers are trained and tested on humane animal welfare practices.
Breed Specific - Duroc breed by Genetics for unparalleled tenderness
Hormone and Steroid Free Diet
Handling Practices Validated by Humane Farm Animal Care
Minimally Processed for Maximum Flavor