{"id":542450450490,"title":"Charbroiled Chicken Romesco","handle":"charbroiled-chicken-romesco-1","description":"\u003cmeta charset=\"utf-8\"\u003e\n\u003cp\u003e\u003cspan\u003eA premium Colorado Native Foods fire-grilled chicken breast served with a Spanish romesco roasted red pepper sauce. Traditionally served with fish this Catalan mixture of roasted red peppers and almonds goes perfectly with this chicken dish. Accompanied by our spicy chili broccoli and risotto with herbs de Provence.\u003c\/span\u003e\u003c\/p\u003e\n\u003cmeta charset=\"utf-8\"\u003e\n\u003cp\u003e\u003cstrong\u003eCharbroiled Chicken Breast with Romesco Sauce, Risotto \u003c\/strong\u003eand\u003cstrong\u003e Broccoli\u003c\/strong\u003e\u003c\/p\u003e\n\u003cp\u003e\u003cb\u003eRomesco Sauce\u003c\/b\u003e\u003cspan\u003e \u003c\/span\u003e– a Spanish romesco roasted red pepper sauce. Traditionally served with fish this Catalan mixture of roasted red peppers and almonds goes perfectly with poultry as well and adds a bright splash of color to your plate. Made with red bell peppers that provide plenty of vitamin C to power up your immune system. Red bell peppers contain several phytochemicals and carotenoids, particularly beta-carotene, which lavish you with antioxidant and anti-inflammatory benefits. The capsaicin in bell peppers reduces 'bad' cholesterol, controls diabetes, brings relief from pain and eases inflammation. The sulfur content in bell peppers allows them to play a protective role in certain types of cancers and bells are a good source of Vitamin E, which is known to play a key role in keeping skin and hair looking youthful. Bell peppers also contain vitamin B6, which is essential for the health of the nervous system and helps renew cells. Also in our recipe is apple cider vinegar which Improves insulin sensitivity during a high-carb meal by 19-34% and significantly lowers blood glucose and insulin responses. Given that vinegar lowers blood sugar and insulin levels, it makes sense that it could help you lose weight. Several human studies suggest that vinegar can increase satiety, help you eat fewer calories and even lead to actual pounds lost on the scale. Vinegar along with high-carb meals can increase feelings of fullness and make people eat fewer calories for the rest of the day.\u003cb\u003e\u003cspan\u003e \u003c\/span\u003e\u003c\/b\u003e\u003cb\u003e\u003cbr\u003e\u003c\/b\u003e\u003cbr\u003e\u003cb\u003eRisotto\u003c\/b\u003e\u003cspan\u003e \u003c\/span\u003e– Made with Arborio rice and our homemade vegetable stock this dish is filled with flavor and nutrition. Arborio Rice is high in muscle building protein and packed in vitamins and minerals. Arborio rice will give you about 12% of your daily dose of vitamins Vitamin A and C. Its Vitamin C content helps protect your teeth and bones. A full cup of Arborio rice, fulfills about 45% of your daily requirement of essential nutrients.\u003c\/p\u003e\n\u003cp\u003e\u003cb\u003eSpicy Chili Broccoli\u003c\/b\u003e\u003cspan\u003e \u003c\/span\u003e– Olive Oil, Lemon Juice, Garlic, Chili Flakes, Sea Salt – simple all natural and delicious. Broccoli comes with many health benefits, it is rich in essential vitamins and minerals in addition to fiber and contains sulforophane, a sulfur-containing compound that is thought to have anti-cancer properties. One cup of broccoli contains as much vitamin C as an orange.\u003c\/p\u003e\n\u003cp\u003e\u003cstrong\u003e\u003cspan\u003eOne order provides approximately 1 serving, 14 oz.\u003c\/span\u003e\u003c\/strong\u003e\u003c\/p\u003e\n\u003ch2\u003e\u003cstrong\u003e\u003cspan\u003eIngrediants\u003c\/span\u003e\u003c\/strong\u003e\u003c\/h2\u003e\n\u003cmeta charset=\"utf-8\"\u003e\n\u003cp\u003e\u003cspan\u003e\u003cb\u003eChargrilled Chicken Breast:\u003c\/b\u003e Chicken Breast (Brined in Water, Salt, Sugar), Olive Oil, Sea Salt, Black Pepper.\u003c\/span\u003e\u003c\/p\u003e\n\u003cp\u003e\u003cb\u003eRomesco Sauce:\u003c\/b\u003e\u003cspan\u003e \u003c\/span\u003eRoasted Red Bell Peppers (Red Bell Peppers, Olive Oil), Water, Almonds, Breadcrumbs (Bleached Wheat Flour, Yeast, Sugar, Salt, Soybean Oil), Apple Cider Vinegar, Sea Salt.\u003c\/p\u003e\n\u003cp\u003e\u003cb\u003eRisotto:\u003c\/b\u003e\u003cspan\u003e \u003c\/span\u003eArborio Rice (Water, Arborio Rice), Milk (Grade A Reduced Fat Milk, Vitamin A Palmitate, Vitamin D3), Cream (Milk), Vegetable Stock (Water, Onion, Carrots, Celery, Olive Oil), White Wine (contains Sulfites), Red Onion, Olive Oil, Seasoning, Salt.\u003c\/p\u003e\n\u003cp\u003e\u003cb\u003eBroccoli:\u003c\/b\u003e\u003cspan\u003e \u003c\/span\u003eBroccoli, Olive Oil, Lemon Juice, Garlic, Chili Flakes, Sea Salt.\u003c\/p\u003e\n\u003cmeta charset=\"utf-8\"\u003e\n\u003ch2\u003e\u003cstrong\u003eCooking Instructions\u003c\/strong\u003e\u003c\/h2\u003e\n\u003cp\u003e\u003cstrong\u003eHeating Directions From Frozen:\u003c\/strong\u003e\u003cbr\u003e\u003cb\u003eStove Top:\u003c\/b\u003e\u003cspan\u003e \u003c\/span\u003e(Preferred Method) Bring water to a boil. Immerse pouch(es) in water, reduce heat to simmer and heat for 7 minutes. Side dishes and sauces (if included) require only 4 to 4½ minutes in the same pot.\u003c\/p\u003e\n\u003cp\u003e\u003cb\u003eMicrowave:\u003c\/b\u003e\u003cspan\u003e \u003c\/span\u003e(Alternative Method) Pierce hole in plastic film for venting. Place pouches on a microwave safe dish and heat on high for 4 to 4½ minutes, or until heated through Let product stand for 1 – 2 minutes before enjoying. Appliances vary, adjust accordingly.\u003c\/p\u003e\n\u003cp\u003e\u003cb\u003eOven:\u003c\/b\u003e\u003cspan\u003e \u003c\/span\u003e(Not Recommended)\u003c\/p\u003e\n\u003cp\u003e\u003cspan\u003eIn the event your meal is not fully reheated after removal from the pouches, you may continue reheating in a microwave on a microwave safe dish until done – which should be no more than another minute or two. An internal temperature of 158° F must be reached. Appliances vary, adjust accordingly.\u003c\/span\u003e\u003c\/p\u003e\n\u003cp\u003e\u003cstrong\u003eFor items without sauces or gravy, cut a hole in corner of pouch and drain excess liquid before plating.\u003c\/strong\u003e\u003c\/p\u003e\n\u003cp\u003e\u003cstrong\u003eAppliances vary, adjust accordingly. Caution: contents will be very hot.\u003c\/strong\u003e\u003c\/p\u003e\n\u003cmeta charset=\"utf-8\"\u003e\n\u003ch2\u003e\u003cstrong\u003e\u003cspan\u003eAllergens\u003c\/span\u003e\u003c\/strong\u003e\u003c\/h2\u003e\n\u003cp\u003e\u003cstrong\u003eRomesco Sauce:\u003c\/strong\u003e Nuts, Wheat, Soy\u003cbr\u003e\u003cstrong\u003eRisotto:\u003c\/strong\u003e Milk, Sulfites \u003c\/p\u003e","published_at":"2018-03-15T13:49:15-04:00","created_at":"2018-03-14T14:55:14-04:00","vendor":"Homebistro","type":"Individual Meals","tags":["Cancer Support","Chicken","Diabetic Friendly","Healthy Gourmet","Individual Meal","Low Carb","Lower Sodium"],"price":1999,"price_min":1999,"price_max":1999,"available":true,"price_varies":false,"compare_at_price":null,"compare_at_price_min":0,"compare_at_price_max":0,"compare_at_price_varies":false,"variants":[{"id":7031357472826,"title":"Default Title","option1":"Default Title","option2":null,"option3":null,"sku":"M-7887","requires_shipping":true,"taxable":true,"featured_image":null,"available":true,"name":"Charbroiled Chicken Romesco","public_title":null,"options":["Default Title"],"price":1999,"weight":0,"compare_at_price":null,"inventory_management":null,"barcode":""}],"images":["\/\/cdn.shopify.com\/s\/files\/1\/0004\/5052\/7290\/products\/individual-meals-charbroiled-chicken-romesco-1.jpg?v=1550105360","\/\/cdn.shopify.com\/s\/files\/1\/0004\/5052\/7290\/products\/individual-meals-charbroiled-chicken-romesco-2.jpg?v=1550105360","\/\/cdn.shopify.com\/s\/files\/1\/0004\/5052\/7290\/products\/individual-meals-charbroiled-chicken-romesco-3.jpg?v=1550105360","\/\/cdn.shopify.com\/s\/files\/1\/0004\/5052\/7290\/products\/individual-meals-charbroiled-chicken-romesco-4.jpg?v=1550105361"],"featured_image":"\/\/cdn.shopify.com\/s\/files\/1\/0004\/5052\/7290\/products\/individual-meals-charbroiled-chicken-romesco-1.jpg?v=1550105360","options":["Title"],"content":"\u003cmeta charset=\"utf-8\"\u003e\n\u003cp\u003e\u003cspan\u003eA premium Colorado Native Foods fire-grilled chicken breast served with a Spanish romesco roasted red pepper sauce. Traditionally served with fish this Catalan mixture of roasted red peppers and almonds goes perfectly with this chicken dish. Accompanied by our spicy chili broccoli and risotto with herbs de Provence.\u003c\/span\u003e\u003c\/p\u003e\n\u003cmeta charset=\"utf-8\"\u003e\n\u003cp\u003e\u003cstrong\u003eCharbroiled Chicken Breast with Romesco Sauce, Risotto \u003c\/strong\u003eand\u003cstrong\u003e Broccoli\u003c\/strong\u003e\u003c\/p\u003e\n\u003cp\u003e\u003cb\u003eRomesco Sauce\u003c\/b\u003e\u003cspan\u003e \u003c\/span\u003e– a Spanish romesco roasted red pepper sauce. Traditionally served with fish this Catalan mixture of roasted red peppers and almonds goes perfectly with poultry as well and adds a bright splash of color to your plate. Made with red bell peppers that provide plenty of vitamin C to power up your immune system. Red bell peppers contain several phytochemicals and carotenoids, particularly beta-carotene, which lavish you with antioxidant and anti-inflammatory benefits. The capsaicin in bell peppers reduces 'bad' cholesterol, controls diabetes, brings relief from pain and eases inflammation. The sulfur content in bell peppers allows them to play a protective role in certain types of cancers and bells are a good source of Vitamin E, which is known to play a key role in keeping skin and hair looking youthful. Bell peppers also contain vitamin B6, which is essential for the health of the nervous system and helps renew cells. Also in our recipe is apple cider vinegar which Improves insulin sensitivity during a high-carb meal by 19-34% and significantly lowers blood glucose and insulin responses. Given that vinegar lowers blood sugar and insulin levels, it makes sense that it could help you lose weight. Several human studies suggest that vinegar can increase satiety, help you eat fewer calories and even lead to actual pounds lost on the scale. Vinegar along with high-carb meals can increase feelings of fullness and make people eat fewer calories for the rest of the day.\u003cb\u003e\u003cspan\u003e \u003c\/span\u003e\u003c\/b\u003e\u003cb\u003e\u003cbr\u003e\u003c\/b\u003e\u003cbr\u003e\u003cb\u003eRisotto\u003c\/b\u003e\u003cspan\u003e \u003c\/span\u003e– Made with Arborio rice and our homemade vegetable stock this dish is filled with flavor and nutrition. Arborio Rice is high in muscle building protein and packed in vitamins and minerals. Arborio rice will give you about 12% of your daily dose of vitamins Vitamin A and C. Its Vitamin C content helps protect your teeth and bones. A full cup of Arborio rice, fulfills about 45% of your daily requirement of essential nutrients.\u003c\/p\u003e\n\u003cp\u003e\u003cb\u003eSpicy Chili Broccoli\u003c\/b\u003e\u003cspan\u003e \u003c\/span\u003e– Olive Oil, Lemon Juice, Garlic, Chili Flakes, Sea Salt – simple all natural and delicious. Broccoli comes with many health benefits, it is rich in essential vitamins and minerals in addition to fiber and contains sulforophane, a sulfur-containing compound that is thought to have anti-cancer properties. One cup of broccoli contains as much vitamin C as an orange.\u003c\/p\u003e\n\u003cp\u003e\u003cstrong\u003e\u003cspan\u003eOne order provides approximately 1 serving, 14 oz.\u003c\/span\u003e\u003c\/strong\u003e\u003c\/p\u003e\n\u003ch2\u003e\u003cstrong\u003e\u003cspan\u003eIngrediants\u003c\/span\u003e\u003c\/strong\u003e\u003c\/h2\u003e\n\u003cmeta charset=\"utf-8\"\u003e\n\u003cp\u003e\u003cspan\u003e\u003cb\u003eChargrilled Chicken Breast:\u003c\/b\u003e Chicken Breast (Brined in Water, Salt, Sugar), Olive Oil, Sea Salt, Black Pepper.\u003c\/span\u003e\u003c\/p\u003e\n\u003cp\u003e\u003cb\u003eRomesco Sauce:\u003c\/b\u003e\u003cspan\u003e \u003c\/span\u003eRoasted Red Bell Peppers (Red Bell Peppers, Olive Oil), Water, Almonds, Breadcrumbs (Bleached Wheat Flour, Yeast, Sugar, Salt, Soybean Oil), Apple Cider Vinegar, Sea Salt.\u003c\/p\u003e\n\u003cp\u003e\u003cb\u003eRisotto:\u003c\/b\u003e\u003cspan\u003e \u003c\/span\u003eArborio Rice (Water, Arborio Rice), Milk (Grade A Reduced Fat Milk, Vitamin A Palmitate, Vitamin D3), Cream (Milk), Vegetable Stock (Water, Onion, Carrots, Celery, Olive Oil), White Wine (contains Sulfites), Red Onion, Olive Oil, Seasoning, Salt.\u003c\/p\u003e\n\u003cp\u003e\u003cb\u003eBroccoli:\u003c\/b\u003e\u003cspan\u003e \u003c\/span\u003eBroccoli, Olive Oil, Lemon Juice, Garlic, Chili Flakes, Sea Salt.\u003c\/p\u003e\n\u003cmeta charset=\"utf-8\"\u003e\n\u003ch2\u003e\u003cstrong\u003eCooking Instructions\u003c\/strong\u003e\u003c\/h2\u003e\n\u003cp\u003e\u003cstrong\u003eHeating Directions From Frozen:\u003c\/strong\u003e\u003cbr\u003e\u003cb\u003eStove Top:\u003c\/b\u003e\u003cspan\u003e \u003c\/span\u003e(Preferred Method) Bring water to a boil. Immerse pouch(es) in water, reduce heat to simmer and heat for 7 minutes. Side dishes and sauces (if included) require only 4 to 4½ minutes in the same pot.\u003c\/p\u003e\n\u003cp\u003e\u003cb\u003eMicrowave:\u003c\/b\u003e\u003cspan\u003e \u003c\/span\u003e(Alternative Method) Pierce hole in plastic film for venting. Place pouches on a microwave safe dish and heat on high for 4 to 4½ minutes, or until heated through Let product stand for 1 – 2 minutes before enjoying. Appliances vary, adjust accordingly.\u003c\/p\u003e\n\u003cp\u003e\u003cb\u003eOven:\u003c\/b\u003e\u003cspan\u003e \u003c\/span\u003e(Not Recommended)\u003c\/p\u003e\n\u003cp\u003e\u003cspan\u003eIn the event your meal is not fully reheated after removal from the pouches, you may continue reheating in a microwave on a microwave safe dish until done – which should be no more than another minute or two. An internal temperature of 158° F must be reached. Appliances vary, adjust accordingly.\u003c\/span\u003e\u003c\/p\u003e\n\u003cp\u003e\u003cstrong\u003eFor items without sauces or gravy, cut a hole in corner of pouch and drain excess liquid before plating.\u003c\/strong\u003e\u003c\/p\u003e\n\u003cp\u003e\u003cstrong\u003eAppliances vary, adjust accordingly. Caution: contents will be very hot.\u003c\/strong\u003e\u003c\/p\u003e\n\u003cmeta charset=\"utf-8\"\u003e\n\u003ch2\u003e\u003cstrong\u003e\u003cspan\u003eAllergens\u003c\/span\u003e\u003c\/strong\u003e\u003c\/h2\u003e\n\u003cp\u003e\u003cstrong\u003eRomesco Sauce:\u003c\/strong\u003e Nuts, Wheat, Soy\u003cbr\u003e\u003cstrong\u003eRisotto:\u003c\/strong\u003e Milk, Sulfites \u003c\/p\u003e"}
Charbroiled Chicken Romesco
Charbroiled Chicken Romesco
A premium Colorado Native Foods fire-grilled chicken breast served with a Spanish romesco roasted red pepper sauce. Traditionally served with fish this Catalan mixture of roasted red peppers and almonds goes perfectly with this chicken dish. Accompanied by our spicy chili broccoli and risotto with herbs de Provence.
Charbroiled Chicken Breast with Romesco Sauce, Risotto and Broccoli
Romesco Sauce – a Spanish romesco roasted red pepper sauce. Traditionally served with fish this Catalan mixture of roasted red peppers and almonds goes perfectly with poultry as well and adds a bright splash of color to your plate. Made with red bell peppers that provide plenty of vitamin C to power up your immune system. Red bell peppers contain several phytochemicals and carotenoids, particularly beta-carotene, which lavish you with antioxidant and anti-inflammatory benefits. The capsaicin in bell peppers reduces 'bad' cholesterol, controls diabetes, brings relief from pain and eases inflammation. The sulfur content in bell peppers allows them to play a protective role in certain types of cancers and bells are a good source of Vitamin E, which is known to play a key role in keeping skin and hair looking youthful. Bell peppers also contain vitamin B6, which is essential for the health of the nervous system and helps renew cells. Also in our recipe is apple cider vinegar which Improves insulin sensitivity during a high-carb meal by 19-34% and significantly lowers blood glucose and insulin responses. Given that vinegar lowers blood sugar and insulin levels, it makes sense that it could help you lose weight. Several human studies suggest that vinegar can increase satiety, help you eat fewer calories and even lead to actual pounds lost on the scale. Vinegar along with high-carb meals can increase feelings of fullness and make people eat fewer calories for the rest of the day. 

Risotto – Made with Arborio rice and our homemade vegetable stock this dish is filled with flavor and nutrition. Arborio Rice is high in muscle building protein and packed in vitamins and minerals. Arborio rice will give you about 12% of your daily dose of vitamins Vitamin A and C. Its Vitamin C content helps protect your teeth and bones. A full cup of Arborio rice, fulfills about 45% of your daily requirement of essential nutrients.
Spicy Chili Broccoli – Olive Oil, Lemon Juice, Garlic, Chili Flakes, Sea Salt – simple all natural and delicious. Broccoli comes with many health benefits, it is rich in essential vitamins and minerals in addition to fiber and contains sulforophane, a sulfur-containing compound that is thought to have anti-cancer properties. One cup of broccoli contains as much vitamin C as an orange.
One order provides approximately 1 serving, 14 oz.
Ingrediants
Chargrilled Chicken Breast: Chicken Breast (Brined in Water, Salt, Sugar), Olive Oil, Sea Salt, Black Pepper.
Romesco Sauce: Roasted Red Bell Peppers (Red Bell Peppers, Olive Oil), Water, Almonds, Breadcrumbs (Bleached Wheat Flour, Yeast, Sugar, Salt, Soybean Oil), Apple Cider Vinegar, Sea Salt.
Risotto: Arborio Rice (Water, Arborio Rice), Milk (Grade A Reduced Fat Milk, Vitamin A Palmitate, Vitamin D3), Cream (Milk), Vegetable Stock (Water, Onion, Carrots, Celery, Olive Oil), White Wine (contains Sulfites), Red Onion, Olive Oil, Seasoning, Salt.
Broccoli: Broccoli, Olive Oil, Lemon Juice, Garlic, Chili Flakes, Sea Salt.
Cooking Instructions
Heating Directions From Frozen:
Stove Top: (Preferred Method) Bring water to a boil. Immerse pouch(es) in water, reduce heat to simmer and heat for 7 minutes. Side dishes and sauces (if included) require only 4 to 4½ minutes in the same pot.
Microwave: (Alternative Method) Pierce hole in plastic film for venting. Place pouches on a microwave safe dish and heat on high for 4 to 4½ minutes, or until heated through Let product stand for 1 – 2 minutes before enjoying. Appliances vary, adjust accordingly.
Oven: (Not Recommended)
In the event your meal is not fully reheated after removal from the pouches, you may continue reheating in a microwave on a microwave safe dish until done – which should be no more than another minute or two. An internal temperature of 158° F must be reached. Appliances vary, adjust accordingly.
For items without sauces or gravy, cut a hole in corner of pouch and drain excess liquid before plating.
Appliances vary, adjust accordingly. Caution: contents will be very hot.
Allergens
Romesco Sauce: Nuts, Wheat, Soy
Risotto: Milk, Sulfites 
Prepared by world class chefs and delivered frozen
Ready to eat within minutes
✓   Made With Natural Ingredients
✓   Delivered Right To Your Door
✓   Diabetic, Paleo, Heart Healthy, Vegetarian Options
✓   Doing Business Since 1999
✓   Courteous, Knowledgeable & Professional Support
✓   Complete PCI Compliant SSL Secure Ordering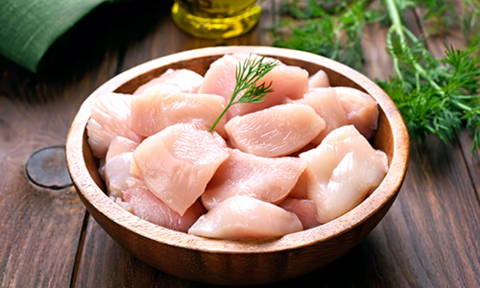 We've partnered with Tecumseh Farms, their Smart Chicken is 100% USDA-verified Pure Air-Chilled (with no added water). Every chicken is raised without antibiotics, growth stimulants, and animal by-products and is handled humanely and responsibly at every step. Every cut is deboned and trimmed by hand for chicken with better texture, flavor, and nutrition. "the right way includes the proper treatment and care of our chickens and also our people, and the utmost care and discretion in how we process and package our product.
Further, we believed that we could do so while keeping a careful eye on the environment and on the sustainability and renewability of the resources we would need to access. We knew we would have to be able to do things efficiently, but we also believed that consumers would be willing to pay a little more for a superior product produced with these principles in mind." – Smart Chicken.com
Made With Natural Ingredients
Hormone and Steroid Free Diet
---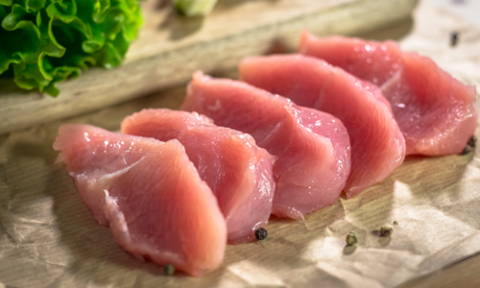 From one secluded valley protected by peaks of stone, nourished by clean mountain air and caring hands, comes a bird of remarkable reputation. This is turkey like no other. Norbest brand turkeys are raised by ranching families working together to produce quality turkey products. Norbest turkey production practices are humane, with the health and comfort of the birds of paramount importance.
Made With Natural Ingredients
Hormone and Steroid Free Diet
---
We've partnered with Aspen Ridge Natural Beef which holds itself to the highest stan­dards on genetics, animal handling and feeding protocols. The result is premium natural beef of unparalleled quality.
Breed Specific - Angus by Genetics
Hormone and Steroid Free Diet
Handling Practices Validated by Humane Farm Animal Care
---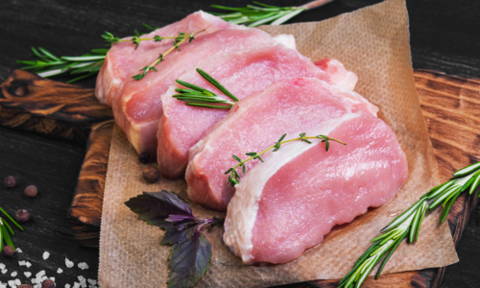 Situated across the American Midwestern countryside are the nearly 20 family-owned farms, which carefully and sustainably produce the premium pork used by Home Bistro. At each farm, sows and pigs are diligently cared for in temperature-controlled environments. These smaller farms allow farmers to devote individualized attention to the animals and promote sustainable agricultural practices. All drivers and handlers are trained and tested on humane animal welfare practices.
Breed Specific - Duroc breed by Genetics for unparalleled tenderness
Hormone and Steroid Free Diet
Handling Practices Validated by Humane Farm Animal Care
Minimally Processed for Maximum Flavor