{"id":512782860346,"title":"20 Meals - Table-For-Two™","handle":"table-for-two™-lunch-dinner-collection","description":"\u003cmeta charset=\"utf-8\"\u003e\n\u003cp\u003eThis package is a great deal with 4 Free Meals included. 20 Meals Total!\u003c\/p\u003e\n\u003cp\u003eYou provide the candlelight and we'll cover the rest. Our Table-For-Two selections provide a total of 20 great tasting and healthy meals. Our favorite entrees and SuperBowls™ to use for lunch or dinner – as you desire. And a cool feature is that each individual meal is portioned for one, so if he wants steak and you want fish – no worries at all! Enjoy our meals every day or whenever you have that urge to just relax and leave the cooking to us. Flash frozen so your Table-For-Two is ready when you want – even when you only give us five minutes' notice!\u003c\/p\u003e\n\u003cp\u003e\u003cimg src=\"\/\/cdn.shopify.com\/s\/files\/1\/0004\/5052\/7290\/files\/orzo_large.jpg?v=1519828186\" alt=\"Orzo with Pecorino Romano SUPERBowl\" width=\"301\" height=\"170\"\u003e\u003c\/p\u003e\n\u003cdiv class=\"bundled_product bundled_product_summary product \"\u003e\n\u003cdiv class=\"details\"\u003e\n\u003ch4 class=\"bundled_product_title product_title\"\u003e\u003cspan class=\"bundled_product_title_inner\"\u003e\u003cspan class=\"item_title\"\u003eOrzo with Pecorino Romano SUPERBowl\u003c\/span\u003e\u003cspan class=\"item_qty\"\u003e\u003cspan\u003e \u003c\/span\u003e× 2\u003c\/span\u003e\u003cspan class=\"item_suffix\"\u003e\u003c\/span\u003e\u003c\/span\u003e\u003c\/h4\u003e\n\u003cdiv class=\"bundled_product_excerpt product_excerpt\"\u003e\n\u003cp\u003eMake lunch swift and satisfying with our healthy gourmet SuperBowl of orzo pasta.\u003c\/p\u003e\n\u003c\/div\u003e\n\u003cdiv class=\"cart\" data-title=\"Orzo with Pecorino Romano SUPERBowl\" data-optional_suffix=\"\" data-optional=\"no\" data-type=\"simple\" data-bundled_item_id=\"233\" data-product_id=\"8494\" data-bundle_id=\"17153\"\u003e\n\u003cdiv class=\"bundled_item_wrap\"\u003e\n\u003cdiv class=\"bundled_item_cart_content\"\u003e\n\u003cdiv class=\"bundled_item_cart_details\"\u003e\n\u003cp class=\"stock out-of-stock\"\u003e \u003cimg src=\"\/\/cdn.shopify.com\/s\/files\/1\/0004\/5052\/7290\/files\/7883_1_large.jpg?v=1519834510\" alt=\"Romesco Sauce Turkey Kabob\" width=\"305\" height=\"172\"\u003e\u003c\/p\u003e\n\u003c\/div\u003e\n\u003c\/div\u003e\n\u003c\/div\u003e\n\u003c\/div\u003e\n\u003c\/div\u003e\n\u003c\/div\u003e\n\u003cdiv class=\"bundled_product bundled_product_summary product \"\u003e\n\u003cdiv class=\"details\"\u003e\n\u003ch4 class=\"bundled_product_title product_title\"\u003e\u003cspan class=\"bundled_product_title_inner\"\u003e\u003cspan class=\"item_title\"\u003eRomesco Sauce Turkey Kabob\u003c\/span\u003e\u003cspan class=\"item_qty\"\u003e\u003cspan\u003e \u003c\/span\u003e× 2\u003c\/span\u003e\u003cspan class=\"item_suffix\"\u003e\u003c\/span\u003e\u003c\/span\u003e\u003c\/h4\u003e\n\u003cdiv class=\"bundled_product_excerpt product_excerpt\"\u003e\n\u003cp\u003eA premium Colorado Native Foods fire-grilled turkey breast is skewered with green and red bell peppers and onion and cooked to perfection, served with a Spanish romesco roasted red pepper sauce. Traditionally served with fish this Catalan mixture of roasted red peppers and almonds goes perfectly with this chicken dish. Accompanied by Orzo with Pecorino Romano Cream Sauce with Shaved Broccoli and Mushrooms and Tunisian Cauliflower Gratin with a Chermoula Sauce.\u003c\/p\u003e\n\u003c\/div\u003e\n\u003cdiv class=\"cart\" data-title=\"Romesco Sauce Turkey Kabob\" data-optional_suffix=\"\" data-optional=\"no\" data-type=\"simple\" data-bundled_item_id=\"241\" data-product_id=\"8676\" data-bundle_id=\"17153\"\u003e\n\u003cdiv class=\"bundled_item_wrap\"\u003e\n\u003cdiv class=\"bundled_item_cart_content\"\u003e\n\u003cdiv class=\"bundled_item_cart_details\"\u003e\n\u003cp class=\"stock out-of-stock\"\u003e \u003cimg src=\"\/\/cdn.shopify.com\/s\/files\/1\/0004\/5052\/7290\/files\/7890_large.jpg?v=1519828553\" alt=\"Pom-Fig Pork \u0026amp; Lebanese Rice\" width=\"312\" height=\"176\"\u003e\u003c\/p\u003e\n\u003c\/div\u003e\n\u003c\/div\u003e\n\u003c\/div\u003e\n\u003c\/div\u003e\n\u003c\/div\u003e\n\u003c\/div\u003e\n\u003cdiv class=\"bundled_product bundled_product_summary product \"\u003e\n\u003cdiv class=\"details\"\u003e\n\u003ch4 class=\"bundled_product_title product_title\"\u003e\u003cspan class=\"bundled_product_title_inner\"\u003e\u003cspan class=\"item_title\"\u003ePom-Fig Pork \u0026amp; Lebanese Rice\u003c\/span\u003e\u003cspan class=\"item_qty\"\u003e\u003cspan\u003e \u003c\/span\u003e× 2\u003c\/span\u003e\u003cspan class=\"item_suffix\"\u003e\u003c\/span\u003e\u003c\/span\u003e\u003c\/h4\u003e\n\u003cdiv class=\"bundled_product_excerpt product_excerpt\"\u003e\n\u003cp\u003eChargrilled pork tenderloin medallions are served a simple, tangy, sweet sauce made with pomegranate and figs. Accompanied by Lebanese lentil rice and honey roasted carrots\u003c\/p\u003e\n\u003c\/div\u003e\n\u003cdiv class=\"cart\" data-title=\"Pom-Fig Pork \u0026amp; Lebanese Rice\" data-optional_suffix=\"\" data-optional=\"no\" data-type=\"simple\" data-bundled_item_id=\"240\" data-product_id=\"8679\" data-bundle_id=\"17153\"\u003e\n\u003cdiv class=\"bundled_item_wrap\"\u003e\n\u003cdiv class=\"bundled_item_cart_content\"\u003e\n\u003cdiv class=\"bundled_item_cart_details\"\u003e\n\u003cp class=\"stock out-of-stock\"\u003e \u003cimg src=\"\/\/cdn.shopify.com\/s\/files\/1\/0004\/5052\/7290\/files\/7889-300x169_large.jpg?v=1519833025\" alt=\"Mediterranean Chicken with Orange Honey Sauce\"\u003e\u003c\/p\u003e\n\u003c\/div\u003e\n\u003c\/div\u003e\n\u003c\/div\u003e\n\u003c\/div\u003e\n\u003c\/div\u003e\n\u003c\/div\u003e\n\u003cdiv class=\"bundled_product bundled_product_summary product \"\u003e\n\u003cdiv class=\"details\"\u003e\n\u003ch4 class=\"bundled_product_title product_title\"\u003e\u003cspan class=\"bundled_product_title_inner\"\u003e\u003cspan class=\"item_title\"\u003eMediterranean Chicken with Orange Honey Sauce\u003c\/span\u003e\u003cspan class=\"item_qty\"\u003e\u003cspan\u003e \u003c\/span\u003e× 2\u003c\/span\u003e\u003cspan class=\"item_suffix\"\u003e\u003c\/span\u003e\u003c\/span\u003e\u003c\/h4\u003e\n\u003cdiv class=\"bundled_product_excerpt product_excerpt\"\u003e\n\u003cp\u003eA premium Colorado Native Foods fire grilled chicken breast is served with an orange honey labneh sauce. Our labneh sauce is made from nutrient-packed Greek yogurt with a touch of orange and honey. Accompanied by Israeli couscous cooked in our homemade chicken stock and honey roasted carrots.\u003c\/p\u003e\n\u003c\/div\u003e\n\u003cdiv class=\"cart\" data-title=\"Mediterranean Chicken with Orange Honey Sauce\" data-optional_suffix=\"\" data-optional=\"no\" data-type=\"simple\" data-bundled_item_id=\"239\" data-product_id=\"8678\" data-bundle_id=\"17153\"\u003e\n\u003cdiv class=\"bundled_item_wrap\"\u003e\n\u003cdiv class=\"bundled_item_cart_content\"\u003e\n\u003cdiv class=\"bundled_item_cart_details\"\u003e\n\u003cp class=\"stock out-of-stock\"\u003e \u003cimg src=\"\/\/cdn.shopify.com\/s\/files\/1\/0004\/5052\/7290\/files\/7893_large.jpg?v=1519829021\" alt=\"Chianti Braised Short Ribs and Vegetables\" width=\"308\" height=\"174\"\u003e\u003c\/p\u003e\n\u003c\/div\u003e\n\u003c\/div\u003e\n\u003c\/div\u003e\n\u003c\/div\u003e\n\u003c\/div\u003e\n\u003c\/div\u003e\n\u003cdiv class=\"bundled_product bundled_product_summary product \"\u003e\n\u003cdiv class=\"details\"\u003e\n\u003ch4 class=\"bundled_product_title product_title\"\u003e\u003cspan class=\"bundled_product_title_inner\"\u003e\u003cspan class=\"item_title\"\u003eChianti Braised Short Ribs and Vegetables\u003c\/span\u003e\u003cspan class=\"item_qty\"\u003e\u003cspan\u003e \u003c\/span\u003e× 2\u003c\/span\u003e\u003cspan class=\"item_suffix\"\u003e\u003c\/span\u003e\u003c\/span\u003e\u003c\/h4\u003e\n\u003cdiv class=\"bundled_product_excerpt product_excerpt\"\u003e\n\u003cp\u003eA premium Aspen Ridge Natural Beef short rib braised in Chianti to a fall-off-the-bone tenderness. A dish that looks like you've slaved over it for hours is accompanied by garlic marble potatoes and beautifully charred roasted Brussels sprouts.\u003c\/p\u003e\n\u003c\/div\u003e\n\u003cdiv class=\"cart\" data-title=\"Chianti Braised Short Ribs and Vegetables\" data-optional_suffix=\"\" data-optional=\"no\" data-type=\"simple\" data-bundled_item_id=\"238\" data-product_id=\"16886\" data-bundle_id=\"17153\"\u003e\n\u003cdiv class=\"bundled_item_wrap\"\u003e\n\u003cdiv class=\"bundled_item_cart_content\"\u003e\n\u003cdiv class=\"bundled_item_cart_details\"\u003e\n\u003cp class=\"stock out-of-stock\"\u003e \u003cimg src=\"\/\/cdn.shopify.com\/s\/files\/1\/0004\/5052\/7290\/files\/7831_large.jpg?v=1519828337\" alt=\"Lentil Herbed Baguette SUPERBowl\" width=\"298\" height=\"168\"\u003e\u003c\/p\u003e\n\u003c\/div\u003e\n\u003c\/div\u003e\n\u003c\/div\u003e\n\u003c\/div\u003e\n\u003c\/div\u003e\n\u003c\/div\u003e\n\u003cdiv class=\"bundled_product bundled_product_summary product \"\u003e\n\u003cdiv class=\"details\"\u003e\n\u003ch4 class=\"bundled_product_title product_title\"\u003e\u003cspan class=\"bundled_product_title_inner\"\u003e\u003cspan class=\"item_title\"\u003eLentil Herbed Baguette SUPERBowl\u003c\/span\u003e\u003cspan class=\"item_qty\"\u003e\u003cspan\u003e \u003c\/span\u003e× 2\u003c\/span\u003e\u003cspan class=\"item_suffix\"\u003e\u003c\/span\u003e\u003c\/span\u003e\u003c\/h4\u003e\n\u003cdiv class=\"bundled_product_excerpt product_excerpt\"\u003e\n\u003cp\u003eOur  lentil soup SUPERBowl is hearty, healthy, and full of homemade comfort. This savory Mediterranean-inspired soup has a thick, creamy consistency, making it a fully satisfying meal on its own.\u003c\/p\u003e\n\u003c\/div\u003e\n\u003cdiv class=\"cart\" data-title=\"Lentil Herbed Baguette SUPERBowl\" data-optional_suffix=\"\" data-optional=\"no\" data-type=\"simple\" data-bundled_item_id=\"237\" data-product_id=\"1083\" data-bundle_id=\"17153\"\u003e\n\u003cdiv class=\"bundled_item_wrap\"\u003e\n\u003cdiv class=\"bundled_item_cart_content\"\u003e\n\u003cdiv class=\"bundled_item_cart_details\"\u003e\n\u003cp class=\"stock out-of-stock\"\u003e \u003cimg src=\"\/\/cdn.shopify.com\/s\/files\/1\/0004\/5052\/7290\/files\/7833_1_large.jpg?v=1519828473\" alt=\"Mushroom Bolognese Pappardelle SUPERBowl\" width=\"307\" height=\"173\"\u003e\u003c\/p\u003e\n\u003c\/div\u003e\n\u003c\/div\u003e\n\u003c\/div\u003e\n\u003c\/div\u003e\n\u003c\/div\u003e\n\u003c\/div\u003e\n\u003cdiv class=\"bundled_product bundled_product_summary product \"\u003e\n\u003cdiv class=\"details\"\u003e\n\u003ch4 class=\"bundled_product_title product_title\"\u003e\u003cspan class=\"bundled_product_title_inner\"\u003e\u003cspan class=\"item_title\"\u003eMushroom Bolognese Pappardelle SUPERBowl\u003c\/span\u003e\u003cspan class=\"item_qty\"\u003e\u003cspan\u003e \u003c\/span\u003e× 2\u003c\/span\u003e\u003cspan class=\"item_suffix\"\u003e\u003c\/span\u003e\u003c\/span\u003e\u003c\/h4\u003e\n\u003cdiv class=\"bundled_product_excerpt product_excerpt\"\u003e\n\u003cp\u003eLiven up your lunchtime the Mediterranean way with our SuperBowl of mushroom bolognese.\u003c\/p\u003e\n\u003c\/div\u003e\n\u003cdiv class=\"cart\" data-title=\"Mushroom Bolognese Pappardelle SUPERBowl\" data-optional_suffix=\"\" data-optional=\"no\" data-type=\"simple\" data-bundled_item_id=\"236\" data-product_id=\"8485\" data-bundle_id=\"17153\"\u003e\n\u003cdiv class=\"bundled_item_wrap\"\u003e\n\u003cdiv class=\"bundled_item_cart_content\"\u003e\n\u003cdiv class=\"bundled_item_cart_details\"\u003e\n\u003cp class=\"stock out-of-stock\"\u003e \u003cimg src=\"\/\/cdn.shopify.com\/s\/files\/1\/0004\/5052\/7290\/files\/7855_large.jpg?v=1519828792\" alt=\"picy White Bean Turkey Chili SUPERBowl\" width=\"314\" height=\"177\"\u003e\u003c\/p\u003e\n\u003c\/div\u003e\n\u003c\/div\u003e\n\u003c\/div\u003e\n\u003c\/div\u003e\n\u003c\/div\u003e\n\u003c\/div\u003e\n\u003cdiv class=\"bundled_product bundled_product_summary product \"\u003e\n\u003cdiv class=\"details\"\u003e\n\u003ch4 class=\"bundled_product_title product_title\"\u003e\u003cspan class=\"bundled_product_title_inner\"\u003e\u003cspan class=\"item_title\"\u003eSpicy White Bean Turkey Chili SUPERBowl\u003c\/span\u003e\u003cspan class=\"item_qty\"\u003e\u003cspan\u003e \u003c\/span\u003e× 2\u003c\/span\u003e\u003cspan class=\"item_suffix\"\u003e\u003c\/span\u003e\u003c\/span\u003e\u003c\/h4\u003e\n\u003cdiv class=\"bundled_product_excerpt product_excerpt\"\u003e\n\u003cp\u003eTreat yourself to a warm, wholesome lunch with the help of our white turkey chili SuperBowl.\u003c\/p\u003e\n\u003c\/div\u003e\n\u003cdiv class=\"cart\" data-title=\"Spicy White Bean Turkey Chili SUPERBowl\" data-optional_suffix=\"\" data-optional=\"no\" data-type=\"simple\" data-bundled_item_id=\"235\" data-product_id=\"1086\" data-bundle_id=\"17153\"\u003e\n\u003cdiv class=\"bundled_item_wrap\"\u003e\n\u003cdiv class=\"bundled_item_cart_content\"\u003e\n\u003cdiv class=\"bundled_item_cart_details\"\u003e\n\u003cp class=\"stock out-of-stock\"\u003e \u003cimg src=\"\/\/cdn.shopify.com\/s\/files\/1\/0004\/5052\/7290\/files\/7822_1_large.jpg?v=1519830269\" alt=\"Saucy Chicken Tagine with Couscous SUPERBowl\" width=\"309\" height=\"174\"\u003e\u003c\/p\u003e\n\u003c\/div\u003e\n\u003c\/div\u003e\n\u003c\/div\u003e\n\u003c\/div\u003e\n\u003c\/div\u003e\n\u003c\/div\u003e\n\u003cdiv class=\"bundled_product bundled_product_summary product \"\u003e\n\u003cdiv class=\"details\"\u003e\n\u003ch4 class=\"bundled_product_title product_title\"\u003e\u003cspan class=\"bundled_product_title_inner\"\u003e\u003cspan class=\"item_title\"\u003eSaucy Chicken Tagine with Couscous SUPERBowl\u003c\/span\u003e\u003cspan class=\"item_qty\"\u003e\u003cspan\u003e \u003c\/span\u003e× 2\u003c\/span\u003e\u003cspan class=\"item_suffix\"\u003e\u003c\/span\u003e\u003c\/span\u003e\u003c\/h4\u003e\n\u003cdiv class=\"bundled_product_excerpt product_excerpt\"\u003e\n\u003cp\u003eEnhance your lunchtime with flavors from the east, brought to you by our vibrant chicken tagine SuperBowl.\u003c\/p\u003e\n\u003c\/div\u003e\n\u003cdiv class=\"cart\" data-title=\"Saucy Chicken Tagine with Couscous SUPERBowl\" data-optional_suffix=\"\" data-optional=\"no\" data-type=\"simple\" data-bundled_item_id=\"234\" data-product_id=\"1082\" data-bundle_id=\"17153\"\u003e\n\u003cdiv class=\"bundled_item_wrap\"\u003e\n\u003cdiv class=\"bundled_item_cart_content\"\u003e\n\u003cdiv class=\"bundled_item_cart_details\"\u003e\n\u003cp class=\"stock out-of-stock\"\u003e \u003cimg src=\"\/\/cdn.shopify.com\/s\/files\/1\/0004\/5052\/7290\/files\/7896_large.jpg?v=1519829072\" alt=\"Artichoke-Lemon Steak with Vegetables\" width=\"312\" height=\"176\"\u003e\u003c\/p\u003e\n\u003c\/div\u003e\n\u003c\/div\u003e\n\u003c\/div\u003e\n\u003c\/div\u003e\n\u003c\/div\u003e\n\u003c\/div\u003e\n\u003cdiv class=\"bundled_product bundled_product_summary product \"\u003e\n\u003cdiv class=\"details\"\u003e\n\u003ch4 class=\"bundled_product_title product_title\"\u003e\u003cspan class=\"bundled_product_title_inner\"\u003e\u003cspan class=\"item_title\"\u003eArtichoke-Lemon Steak with Vegetables\u003c\/span\u003e\u003cspan class=\"item_qty\"\u003e\u003cspan\u003e \u003c\/span\u003e× 2\u003c\/span\u003e\u003cspan class=\"item_suffix\"\u003e\u003c\/span\u003e\u003c\/span\u003e\u003c\/h4\u003e\n\u003cdiv class=\"bundled_product_excerpt product_excerpt\"\u003e\n\u003cp\u003eA premium Aspen Ridge Natural Beef hanger steak also known as a bistro steak is a cut of beef steak prized for its flavor. Ours is 6 oz, seared to perfection and served with a zesty artichoke-lemon butter sauce. Accompanied by a fava bean and roasted bell pepper salad and our Moroccan Ratatouille.\u003c\/p\u003e\n\u003c\/div\u003e\n\u003c\/div\u003e\n\u003c\/div\u003e","published_at":"2018-02-21T14:51:02-05:00","created_at":"2018-02-21T14:52:48-05:00","vendor":"Homebistro","type":"Combos","tags":["20 Meals","Diabetic Friendly","Healthy Gourmet","Lower Sodium"],"price":29999,"price_min":29999,"price_max":29999,"available":true,"price_varies":false,"compare_at_price":null,"compare_at_price_min":0,"compare_at_price_max":0,"compare_at_price_varies":false,"variants":[{"id":6835537084474,"title":"Default Title","option1":"Default Title","option2":null,"option3":null,"sku":"P-7960","requires_shipping":true,"taxable":true,"featured_image":null,"available":true,"name":"20 Meals - Table-For-Two™","public_title":null,"options":["Default Title"],"price":29999,"weight":0,"compare_at_price":null,"inventory_management":null,"barcode":""}],"images":["\/\/cdn.shopify.com\/s\/files\/1\/0004\/5052\/7290\/products\/combos-20-meals-table-for-two-1.jpg?v=1550105432"],"featured_image":"\/\/cdn.shopify.com\/s\/files\/1\/0004\/5052\/7290\/products\/combos-20-meals-table-for-two-1.jpg?v=1550105432","options":["Title"],"content":"\u003cmeta charset=\"utf-8\"\u003e\n\u003cp\u003eThis package is a great deal with 4 Free Meals included. 20 Meals Total!\u003c\/p\u003e\n\u003cp\u003eYou provide the candlelight and we'll cover the rest. Our Table-For-Two selections provide a total of 20 great tasting and healthy meals. Our favorite entrees and SuperBowls™ to use for lunch or dinner – as you desire. And a cool feature is that each individual meal is portioned for one, so if he wants steak and you want fish – no worries at all! Enjoy our meals every day or whenever you have that urge to just relax and leave the cooking to us. Flash frozen so your Table-For-Two is ready when you want – even when you only give us five minutes' notice!\u003c\/p\u003e\n\u003cp\u003e\u003cimg src=\"\/\/cdn.shopify.com\/s\/files\/1\/0004\/5052\/7290\/files\/orzo_large.jpg?v=1519828186\" alt=\"Orzo with Pecorino Romano SUPERBowl\" width=\"301\" height=\"170\"\u003e\u003c\/p\u003e\n\u003cdiv class=\"bundled_product bundled_product_summary product \"\u003e\n\u003cdiv class=\"details\"\u003e\n\u003ch4 class=\"bundled_product_title product_title\"\u003e\u003cspan class=\"bundled_product_title_inner\"\u003e\u003cspan class=\"item_title\"\u003eOrzo with Pecorino Romano SUPERBowl\u003c\/span\u003e\u003cspan class=\"item_qty\"\u003e\u003cspan\u003e \u003c\/span\u003e× 2\u003c\/span\u003e\u003cspan class=\"item_suffix\"\u003e\u003c\/span\u003e\u003c\/span\u003e\u003c\/h4\u003e\n\u003cdiv class=\"bundled_product_excerpt product_excerpt\"\u003e\n\u003cp\u003eMake lunch swift and satisfying with our healthy gourmet SuperBowl of orzo pasta.\u003c\/p\u003e\n\u003c\/div\u003e\n\u003cdiv class=\"cart\" data-title=\"Orzo with Pecorino Romano SUPERBowl\" data-optional_suffix=\"\" data-optional=\"no\" data-type=\"simple\" data-bundled_item_id=\"233\" data-product_id=\"8494\" data-bundle_id=\"17153\"\u003e\n\u003cdiv class=\"bundled_item_wrap\"\u003e\n\u003cdiv class=\"bundled_item_cart_content\"\u003e\n\u003cdiv class=\"bundled_item_cart_details\"\u003e\n\u003cp class=\"stock out-of-stock\"\u003e \u003cimg src=\"\/\/cdn.shopify.com\/s\/files\/1\/0004\/5052\/7290\/files\/7883_1_large.jpg?v=1519834510\" alt=\"Romesco Sauce Turkey Kabob\" width=\"305\" height=\"172\"\u003e\u003c\/p\u003e\n\u003c\/div\u003e\n\u003c\/div\u003e\n\u003c\/div\u003e\n\u003c\/div\u003e\n\u003c\/div\u003e\n\u003c\/div\u003e\n\u003cdiv class=\"bundled_product bundled_product_summary product \"\u003e\n\u003cdiv class=\"details\"\u003e\n\u003ch4 class=\"bundled_product_title product_title\"\u003e\u003cspan class=\"bundled_product_title_inner\"\u003e\u003cspan class=\"item_title\"\u003eRomesco Sauce Turkey Kabob\u003c\/span\u003e\u003cspan class=\"item_qty\"\u003e\u003cspan\u003e \u003c\/span\u003e× 2\u003c\/span\u003e\u003cspan class=\"item_suffix\"\u003e\u003c\/span\u003e\u003c\/span\u003e\u003c\/h4\u003e\n\u003cdiv class=\"bundled_product_excerpt product_excerpt\"\u003e\n\u003cp\u003eA premium Colorado Native Foods fire-grilled turkey breast is skewered with green and red bell peppers and onion and cooked to perfection, served with a Spanish romesco roasted red pepper sauce. Traditionally served with fish this Catalan mixture of roasted red peppers and almonds goes perfectly with this chicken dish. Accompanied by Orzo with Pecorino Romano Cream Sauce with Shaved Broccoli and Mushrooms and Tunisian Cauliflower Gratin with a Chermoula Sauce.\u003c\/p\u003e\n\u003c\/div\u003e\n\u003cdiv class=\"cart\" data-title=\"Romesco Sauce Turkey Kabob\" data-optional_suffix=\"\" data-optional=\"no\" data-type=\"simple\" data-bundled_item_id=\"241\" data-product_id=\"8676\" data-bundle_id=\"17153\"\u003e\n\u003cdiv class=\"bundled_item_wrap\"\u003e\n\u003cdiv class=\"bundled_item_cart_content\"\u003e\n\u003cdiv class=\"bundled_item_cart_details\"\u003e\n\u003cp class=\"stock out-of-stock\"\u003e \u003cimg src=\"\/\/cdn.shopify.com\/s\/files\/1\/0004\/5052\/7290\/files\/7890_large.jpg?v=1519828553\" alt=\"Pom-Fig Pork \u0026amp; Lebanese Rice\" width=\"312\" height=\"176\"\u003e\u003c\/p\u003e\n\u003c\/div\u003e\n\u003c\/div\u003e\n\u003c\/div\u003e\n\u003c\/div\u003e\n\u003c\/div\u003e\n\u003c\/div\u003e\n\u003cdiv class=\"bundled_product bundled_product_summary product \"\u003e\n\u003cdiv class=\"details\"\u003e\n\u003ch4 class=\"bundled_product_title product_title\"\u003e\u003cspan class=\"bundled_product_title_inner\"\u003e\u003cspan class=\"item_title\"\u003ePom-Fig Pork \u0026amp; Lebanese Rice\u003c\/span\u003e\u003cspan class=\"item_qty\"\u003e\u003cspan\u003e \u003c\/span\u003e× 2\u003c\/span\u003e\u003cspan class=\"item_suffix\"\u003e\u003c\/span\u003e\u003c\/span\u003e\u003c\/h4\u003e\n\u003cdiv class=\"bundled_product_excerpt product_excerpt\"\u003e\n\u003cp\u003eChargrilled pork tenderloin medallions are served a simple, tangy, sweet sauce made with pomegranate and figs. Accompanied by Lebanese lentil rice and honey roasted carrots\u003c\/p\u003e\n\u003c\/div\u003e\n\u003cdiv class=\"cart\" data-title=\"Pom-Fig Pork \u0026amp; Lebanese Rice\" data-optional_suffix=\"\" data-optional=\"no\" data-type=\"simple\" data-bundled_item_id=\"240\" data-product_id=\"8679\" data-bundle_id=\"17153\"\u003e\n\u003cdiv class=\"bundled_item_wrap\"\u003e\n\u003cdiv class=\"bundled_item_cart_content\"\u003e\n\u003cdiv class=\"bundled_item_cart_details\"\u003e\n\u003cp class=\"stock out-of-stock\"\u003e \u003cimg src=\"\/\/cdn.shopify.com\/s\/files\/1\/0004\/5052\/7290\/files\/7889-300x169_large.jpg?v=1519833025\" alt=\"Mediterranean Chicken with Orange Honey Sauce\"\u003e\u003c\/p\u003e\n\u003c\/div\u003e\n\u003c\/div\u003e\n\u003c\/div\u003e\n\u003c\/div\u003e\n\u003c\/div\u003e\n\u003c\/div\u003e\n\u003cdiv class=\"bundled_product bundled_product_summary product \"\u003e\n\u003cdiv class=\"details\"\u003e\n\u003ch4 class=\"bundled_product_title product_title\"\u003e\u003cspan class=\"bundled_product_title_inner\"\u003e\u003cspan class=\"item_title\"\u003eMediterranean Chicken with Orange Honey Sauce\u003c\/span\u003e\u003cspan class=\"item_qty\"\u003e\u003cspan\u003e \u003c\/span\u003e× 2\u003c\/span\u003e\u003cspan class=\"item_suffix\"\u003e\u003c\/span\u003e\u003c\/span\u003e\u003c\/h4\u003e\n\u003cdiv class=\"bundled_product_excerpt product_excerpt\"\u003e\n\u003cp\u003eA premium Colorado Native Foods fire grilled chicken breast is served with an orange honey labneh sauce. Our labneh sauce is made from nutrient-packed Greek yogurt with a touch of orange and honey. Accompanied by Israeli couscous cooked in our homemade chicken stock and honey roasted carrots.\u003c\/p\u003e\n\u003c\/div\u003e\n\u003cdiv class=\"cart\" data-title=\"Mediterranean Chicken with Orange Honey Sauce\" data-optional_suffix=\"\" data-optional=\"no\" data-type=\"simple\" data-bundled_item_id=\"239\" data-product_id=\"8678\" data-bundle_id=\"17153\"\u003e\n\u003cdiv class=\"bundled_item_wrap\"\u003e\n\u003cdiv class=\"bundled_item_cart_content\"\u003e\n\u003cdiv class=\"bundled_item_cart_details\"\u003e\n\u003cp class=\"stock out-of-stock\"\u003e \u003cimg src=\"\/\/cdn.shopify.com\/s\/files\/1\/0004\/5052\/7290\/files\/7893_large.jpg?v=1519829021\" alt=\"Chianti Braised Short Ribs and Vegetables\" width=\"308\" height=\"174\"\u003e\u003c\/p\u003e\n\u003c\/div\u003e\n\u003c\/div\u003e\n\u003c\/div\u003e\n\u003c\/div\u003e\n\u003c\/div\u003e\n\u003c\/div\u003e\n\u003cdiv class=\"bundled_product bundled_product_summary product \"\u003e\n\u003cdiv class=\"details\"\u003e\n\u003ch4 class=\"bundled_product_title product_title\"\u003e\u003cspan class=\"bundled_product_title_inner\"\u003e\u003cspan class=\"item_title\"\u003eChianti Braised Short Ribs and Vegetables\u003c\/span\u003e\u003cspan class=\"item_qty\"\u003e\u003cspan\u003e \u003c\/span\u003e× 2\u003c\/span\u003e\u003cspan class=\"item_suffix\"\u003e\u003c\/span\u003e\u003c\/span\u003e\u003c\/h4\u003e\n\u003cdiv class=\"bundled_product_excerpt product_excerpt\"\u003e\n\u003cp\u003eA premium Aspen Ridge Natural Beef short rib braised in Chianti to a fall-off-the-bone tenderness. A dish that looks like you've slaved over it for hours is accompanied by garlic marble potatoes and beautifully charred roasted Brussels sprouts.\u003c\/p\u003e\n\u003c\/div\u003e\n\u003cdiv class=\"cart\" data-title=\"Chianti Braised Short Ribs and Vegetables\" data-optional_suffix=\"\" data-optional=\"no\" data-type=\"simple\" data-bundled_item_id=\"238\" data-product_id=\"16886\" data-bundle_id=\"17153\"\u003e\n\u003cdiv class=\"bundled_item_wrap\"\u003e\n\u003cdiv class=\"bundled_item_cart_content\"\u003e\n\u003cdiv class=\"bundled_item_cart_details\"\u003e\n\u003cp class=\"stock out-of-stock\"\u003e \u003cimg src=\"\/\/cdn.shopify.com\/s\/files\/1\/0004\/5052\/7290\/files\/7831_large.jpg?v=1519828337\" alt=\"Lentil Herbed Baguette SUPERBowl\" width=\"298\" height=\"168\"\u003e\u003c\/p\u003e\n\u003c\/div\u003e\n\u003c\/div\u003e\n\u003c\/div\u003e\n\u003c\/div\u003e\n\u003c\/div\u003e\n\u003c\/div\u003e\n\u003cdiv class=\"bundled_product bundled_product_summary product \"\u003e\n\u003cdiv class=\"details\"\u003e\n\u003ch4 class=\"bundled_product_title product_title\"\u003e\u003cspan class=\"bundled_product_title_inner\"\u003e\u003cspan class=\"item_title\"\u003eLentil Herbed Baguette SUPERBowl\u003c\/span\u003e\u003cspan class=\"item_qty\"\u003e\u003cspan\u003e \u003c\/span\u003e× 2\u003c\/span\u003e\u003cspan class=\"item_suffix\"\u003e\u003c\/span\u003e\u003c\/span\u003e\u003c\/h4\u003e\n\u003cdiv class=\"bundled_product_excerpt product_excerpt\"\u003e\n\u003cp\u003eOur  lentil soup SUPERBowl is hearty, healthy, and full of homemade comfort. This savory Mediterranean-inspired soup has a thick, creamy consistency, making it a fully satisfying meal on its own.\u003c\/p\u003e\n\u003c\/div\u003e\n\u003cdiv class=\"cart\" data-title=\"Lentil Herbed Baguette SUPERBowl\" data-optional_suffix=\"\" data-optional=\"no\" data-type=\"simple\" data-bundled_item_id=\"237\" data-product_id=\"1083\" data-bundle_id=\"17153\"\u003e\n\u003cdiv class=\"bundled_item_wrap\"\u003e\n\u003cdiv class=\"bundled_item_cart_content\"\u003e\n\u003cdiv class=\"bundled_item_cart_details\"\u003e\n\u003cp class=\"stock out-of-stock\"\u003e \u003cimg src=\"\/\/cdn.shopify.com\/s\/files\/1\/0004\/5052\/7290\/files\/7833_1_large.jpg?v=1519828473\" alt=\"Mushroom Bolognese Pappardelle SUPERBowl\" width=\"307\" height=\"173\"\u003e\u003c\/p\u003e\n\u003c\/div\u003e\n\u003c\/div\u003e\n\u003c\/div\u003e\n\u003c\/div\u003e\n\u003c\/div\u003e\n\u003c\/div\u003e\n\u003cdiv class=\"bundled_product bundled_product_summary product \"\u003e\n\u003cdiv class=\"details\"\u003e\n\u003ch4 class=\"bundled_product_title product_title\"\u003e\u003cspan class=\"bundled_product_title_inner\"\u003e\u003cspan class=\"item_title\"\u003eMushroom Bolognese Pappardelle SUPERBowl\u003c\/span\u003e\u003cspan class=\"item_qty\"\u003e\u003cspan\u003e \u003c\/span\u003e× 2\u003c\/span\u003e\u003cspan class=\"item_suffix\"\u003e\u003c\/span\u003e\u003c\/span\u003e\u003c\/h4\u003e\n\u003cdiv class=\"bundled_product_excerpt product_excerpt\"\u003e\n\u003cp\u003eLiven up your lunchtime the Mediterranean way with our SuperBowl of mushroom bolognese.\u003c\/p\u003e\n\u003c\/div\u003e\n\u003cdiv class=\"cart\" data-title=\"Mushroom Bolognese Pappardelle SUPERBowl\" data-optional_suffix=\"\" data-optional=\"no\" data-type=\"simple\" data-bundled_item_id=\"236\" data-product_id=\"8485\" data-bundle_id=\"17153\"\u003e\n\u003cdiv class=\"bundled_item_wrap\"\u003e\n\u003cdiv class=\"bundled_item_cart_content\"\u003e\n\u003cdiv class=\"bundled_item_cart_details\"\u003e\n\u003cp class=\"stock out-of-stock\"\u003e \u003cimg src=\"\/\/cdn.shopify.com\/s\/files\/1\/0004\/5052\/7290\/files\/7855_large.jpg?v=1519828792\" alt=\"picy White Bean Turkey Chili SUPERBowl\" width=\"314\" height=\"177\"\u003e\u003c\/p\u003e\n\u003c\/div\u003e\n\u003c\/div\u003e\n\u003c\/div\u003e\n\u003c\/div\u003e\n\u003c\/div\u003e\n\u003c\/div\u003e\n\u003cdiv class=\"bundled_product bundled_product_summary product \"\u003e\n\u003cdiv class=\"details\"\u003e\n\u003ch4 class=\"bundled_product_title product_title\"\u003e\u003cspan class=\"bundled_product_title_inner\"\u003e\u003cspan class=\"item_title\"\u003eSpicy White Bean Turkey Chili SUPERBowl\u003c\/span\u003e\u003cspan class=\"item_qty\"\u003e\u003cspan\u003e \u003c\/span\u003e× 2\u003c\/span\u003e\u003cspan class=\"item_suffix\"\u003e\u003c\/span\u003e\u003c\/span\u003e\u003c\/h4\u003e\n\u003cdiv class=\"bundled_product_excerpt product_excerpt\"\u003e\n\u003cp\u003eTreat yourself to a warm, wholesome lunch with the help of our white turkey chili SuperBowl.\u003c\/p\u003e\n\u003c\/div\u003e\n\u003cdiv class=\"cart\" data-title=\"Spicy White Bean Turkey Chili SUPERBowl\" data-optional_suffix=\"\" data-optional=\"no\" data-type=\"simple\" data-bundled_item_id=\"235\" data-product_id=\"1086\" data-bundle_id=\"17153\"\u003e\n\u003cdiv class=\"bundled_item_wrap\"\u003e\n\u003cdiv class=\"bundled_item_cart_content\"\u003e\n\u003cdiv class=\"bundled_item_cart_details\"\u003e\n\u003cp class=\"stock out-of-stock\"\u003e \u003cimg src=\"\/\/cdn.shopify.com\/s\/files\/1\/0004\/5052\/7290\/files\/7822_1_large.jpg?v=1519830269\" alt=\"Saucy Chicken Tagine with Couscous SUPERBowl\" width=\"309\" height=\"174\"\u003e\u003c\/p\u003e\n\u003c\/div\u003e\n\u003c\/div\u003e\n\u003c\/div\u003e\n\u003c\/div\u003e\n\u003c\/div\u003e\n\u003c\/div\u003e\n\u003cdiv class=\"bundled_product bundled_product_summary product \"\u003e\n\u003cdiv class=\"details\"\u003e\n\u003ch4 class=\"bundled_product_title product_title\"\u003e\u003cspan class=\"bundled_product_title_inner\"\u003e\u003cspan class=\"item_title\"\u003eSaucy Chicken Tagine with Couscous SUPERBowl\u003c\/span\u003e\u003cspan class=\"item_qty\"\u003e\u003cspan\u003e \u003c\/span\u003e× 2\u003c\/span\u003e\u003cspan class=\"item_suffix\"\u003e\u003c\/span\u003e\u003c\/span\u003e\u003c\/h4\u003e\n\u003cdiv class=\"bundled_product_excerpt product_excerpt\"\u003e\n\u003cp\u003eEnhance your lunchtime with flavors from the east, brought to you by our vibrant chicken tagine SuperBowl.\u003c\/p\u003e\n\u003c\/div\u003e\n\u003cdiv class=\"cart\" data-title=\"Saucy Chicken Tagine with Couscous SUPERBowl\" data-optional_suffix=\"\" data-optional=\"no\" data-type=\"simple\" data-bundled_item_id=\"234\" data-product_id=\"1082\" data-bundle_id=\"17153\"\u003e\n\u003cdiv class=\"bundled_item_wrap\"\u003e\n\u003cdiv class=\"bundled_item_cart_content\"\u003e\n\u003cdiv class=\"bundled_item_cart_details\"\u003e\n\u003cp class=\"stock out-of-stock\"\u003e \u003cimg src=\"\/\/cdn.shopify.com\/s\/files\/1\/0004\/5052\/7290\/files\/7896_large.jpg?v=1519829072\" alt=\"Artichoke-Lemon Steak with Vegetables\" width=\"312\" height=\"176\"\u003e\u003c\/p\u003e\n\u003c\/div\u003e\n\u003c\/div\u003e\n\u003c\/div\u003e\n\u003c\/div\u003e\n\u003c\/div\u003e\n\u003c\/div\u003e\n\u003cdiv class=\"bundled_product bundled_product_summary product \"\u003e\n\u003cdiv class=\"details\"\u003e\n\u003ch4 class=\"bundled_product_title product_title\"\u003e\u003cspan class=\"bundled_product_title_inner\"\u003e\u003cspan class=\"item_title\"\u003eArtichoke-Lemon Steak with Vegetables\u003c\/span\u003e\u003cspan class=\"item_qty\"\u003e\u003cspan\u003e \u003c\/span\u003e× 2\u003c\/span\u003e\u003cspan class=\"item_suffix\"\u003e\u003c\/span\u003e\u003c\/span\u003e\u003c\/h4\u003e\n\u003cdiv class=\"bundled_product_excerpt product_excerpt\"\u003e\n\u003cp\u003eA premium Aspen Ridge Natural Beef hanger steak also known as a bistro steak is a cut of beef steak prized for its flavor. Ours is 6 oz, seared to perfection and served with a zesty artichoke-lemon butter sauce. Accompanied by a fava bean and roasted bell pepper salad and our Moroccan Ratatouille.\u003c\/p\u003e\n\u003c\/div\u003e\n\u003c\/div\u003e\n\u003c\/div\u003e"}
20 Meals - Table-For-Two™
20 Meals - Table-For-Two™
This package is a great deal with 4 Free Meals included. 20 Meals Total!
You provide the candlelight and we'll cover the rest. Our Table-For-Two selections provide a total of 20 great tasting and healthy meals. Our favorite entrees and SuperBowls™ to use for lunch or dinner – as you desire. And a cool feature is that each individual meal is portioned for one, so if he wants steak and you want fish – no worries at all! Enjoy our meals every day or whenever you have that urge to just relax and leave the cooking to us. Flash frozen so your Table-For-Two is ready when you want – even when you only give us five minutes' notice!
Orzo with Pecorino Romano SUPERBowl

 

× 2
Make lunch swift and satisfying with our healthy gourmet SuperBowl of orzo pasta.
Romesco Sauce Turkey Kabob

 

× 2
A premium Colorado Native Foods fire-grilled turkey breast is skewered with green and red bell peppers and onion and cooked to perfection, served with a Spanish romesco roasted red pepper sauce. Traditionally served with fish this Catalan mixture of roasted red peppers and almonds goes perfectly with this chicken dish. Accompanied by Orzo with Pecorino Romano Cream Sauce with Shaved Broccoli and Mushrooms and Tunisian Cauliflower Gratin with a Chermoula Sauce.
Pom-Fig Pork & Lebanese Rice

 

× 2
Chargrilled pork tenderloin medallions are served a simple, tangy, sweet sauce made with pomegranate and figs. Accompanied by Lebanese lentil rice and honey roasted carrots
Mediterranean Chicken with Orange Honey Sauce

 

× 2
A premium Colorado Native Foods fire grilled chicken breast is served with an orange honey labneh sauce. Our labneh sauce is made from nutrient-packed Greek yogurt with a touch of orange and honey. Accompanied by Israeli couscous cooked in our homemade chicken stock and honey roasted carrots.
Chianti Braised Short Ribs and Vegetables

 

× 2
A premium Aspen Ridge Natural Beef short rib braised in Chianti to a fall-off-the-bone tenderness. A dish that looks like you've slaved over it for hours is accompanied by garlic marble potatoes and beautifully charred roasted Brussels sprouts.
Lentil Herbed Baguette SUPERBowl

 

× 2
Our  lentil soup SUPERBowl is hearty, healthy, and full of homemade comfort. This savory Mediterranean-inspired soup has a thick, creamy consistency, making it a fully satisfying meal on its own.
Mushroom Bolognese Pappardelle SUPERBowl

 

× 2
Liven up your lunchtime the Mediterranean way with our SuperBowl of mushroom bolognese.
Spicy White Bean Turkey Chili SUPERBowl

 

× 2
Treat yourself to a warm, wholesome lunch with the help of our white turkey chili SuperBowl.
Saucy Chicken Tagine with Couscous SUPERBowl

 

× 2
Enhance your lunchtime with flavors from the east, brought to you by our vibrant chicken tagine SuperBowl.
Artichoke-Lemon Steak with Vegetables

 

× 2
A premium Aspen Ridge Natural Beef hanger steak also known as a bistro steak is a cut of beef steak prized for its flavor. Ours is 6 oz, seared to perfection and served with a zesty artichoke-lemon butter sauce. Accompanied by a fava bean and roasted bell pepper salad and our Moroccan Ratatouille.
Prepared by world class chefs and delivered frozen
Ready to eat within minutes
✓   Made With Natural Ingredients
✓   Delivered Right To Your Door
✓   Diabetic, Paleo, Heart Healthy, Vegetarian Options
✓   Doing Business Since 1999
✓   Courteous, Knowledgeable & Professional Support
✓   Complete PCI Compliant SSL Secure Ordering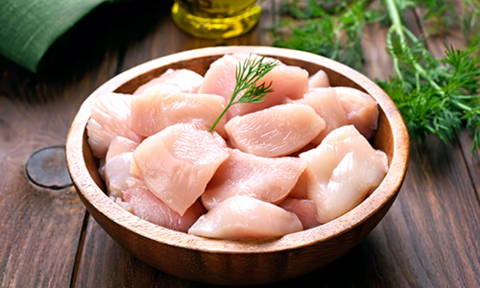 We've partnered with Tecumseh Farms, their Smart Chicken is 100% USDA-verified Pure Air-Chilled (with no added water). Every chicken is raised without antibiotics, growth stimulants, and animal by-products and is handled humanely and responsibly at every step. Every cut is deboned and trimmed by hand for chicken with better texture, flavor, and nutrition. "the right way includes the proper treatment and care of our chickens and also our people, and the utmost care and discretion in how we process and package our product.
Further, we believed that we could do so while keeping a careful eye on the environment and on the sustainability and renewability of the resources we would need to access. We knew we would have to be able to do things efficiently, but we also believed that consumers would be willing to pay a little more for a superior product produced with these principles in mind." – Smart Chicken.com
Made With Natural Ingredients
Hormone and Steroid Free Diet
---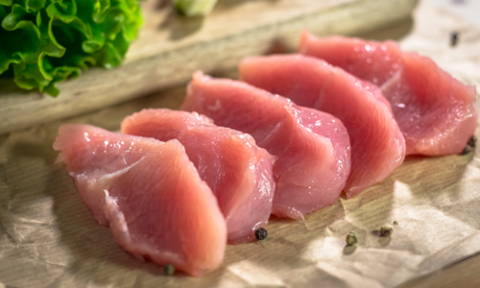 From one secluded valley protected by peaks of stone, nourished by clean mountain air and caring hands, comes a bird of remarkable reputation. This is turkey like no other. Norbest brand turkeys are raised by ranching families working together to produce quality turkey products. Norbest turkey production practices are humane, with the health and comfort of the birds of paramount importance.
Made With Natural Ingredients
Hormone and Steroid Free Diet
---
We've partnered with Aspen Ridge Natural Beef which holds itself to the highest stan­dards on genetics, animal handling and feeding protocols. The result is premium natural beef of unparalleled quality.
Breed Specific - Angus by Genetics
Hormone and Steroid Free Diet
Handling Practices Validated by Humane Farm Animal Care
---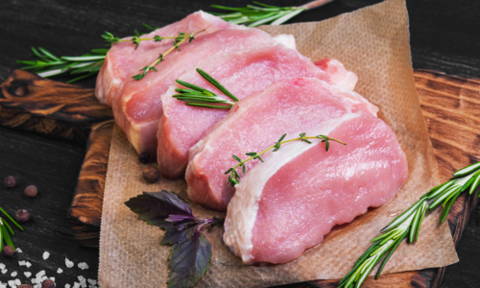 Situated across the American Midwestern countryside are the nearly 20 family-owned farms, which carefully and sustainably produce the premium pork used by Home Bistro. At each farm, sows and pigs are diligently cared for in temperature-controlled environments. These smaller farms allow farmers to devote individualized attention to the animals and promote sustainable agricultural practices. All drivers and handlers are trained and tested on humane animal welfare practices.
Breed Specific - Duroc breed by Genetics for unparalleled tenderness
Hormone and Steroid Free Diet
Handling Practices Validated by Humane Farm Animal Care
Minimally Processed for Maximum Flavor